Grandma fearlessly strikes moose to save husband
May 22, 2012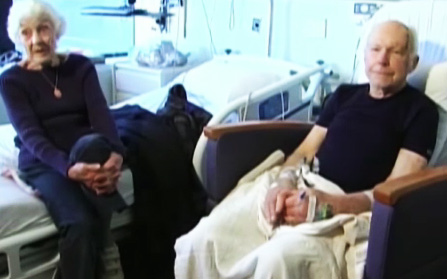 The moose that decided to attack George Murphy while taking the dogs for a walk with his wife Dorothea Taylor sure picked the wrong day to pick a fight.
85-year-old Dorothea Taylor saved her husband's life by raining down on the moose with a shovel of fury, repeatedly hitting the moose in the head. The dogs aided in her victory as the moose finally backed off.
George, 82-years-old, was helplessly pinned down in the snow during the attack. Dorothea came to his aid risking her own life to fend off the massive 1200 pound moose. She could have easily been crushed by the beast.
Once the moose left, George was transported to a local hospital to be treated for a large cut on his head and some broken ribs during the struggle. He is in good condition and will be just fine.
If Dorothea hadn't taken the courage to fight off the moose, George could have been seriously injured, if not dead. Was it instict, or love that made Dorothea put her own life at risk? The happy couple has been together for over 40 years.
When questioned, George could not believe that all she had was a shovel while taking care of business. That's a hard thing for anyone to accomplish, let alone an 85-year-old woman.
Dorothea, weighing in at a whopping 97 pounds taught that moose a lesson. Pick on someone your own size!
Please consider
making a donation
to
Sunny Skyz
and help our mission to make the world a better place.