Children's Author teaches kids to feel good about themselves
April 4, 2012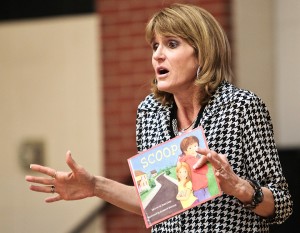 Minooka Grade School District 201 had a special treat recently when children's author Julia Cook came to talk about her books and her writing career.
Cook refers to herself as a verb - a person who has to always be busy. She admits to kids that she has attention deficit disorder and she talks about how hard it was to sit still in school with her hands in her lap. She even wrote a book about being ADD, "It's Hard to be a Verb!" And kids can really relate.
Cook has written 32 books so far, all about life's issues, fears and problems and all in a way that children can understand.
Take her "I Am a Booger ...," which brings to light the little-discussed subject of picking your nose. Everyone does it, Cook says, and then kids don't know what to do with "it."
There's "Bully B.E.A.N.S.," which teaches both kids and parents how to understand what bullying is and how to put a stop to it.
Eighty-five percent of students are bystanders when it comes to bullying, Cook said. So bystanders have to unite and be proactive in putting a stop to bullies.
Cook tackles all sorts of sensitive subjects, from tattling and interrupting to divorce and anger management.
As a former school guidance counselor, she knows how to understand and deal with children, and students really respond positively to her.
When Cook visited Jones Elementary School earlier this month, she talked about her books and the topics at an all-school assembly. Later in the day, she met with students again, by age groups, and spent some time explaining how her books go from a sloppy copy to a published book.
She then met that evening with parents and students to talk about how reading and learning can help students become more confident.
"If you read (kids) a book, you can get inside their heads and connect with them," Cook said.
Her books teach parents as well as kids. In "Scoop," Cook talks about child abductions in a nonthreatening and friendly way, from the viewpoint of a child asking questions. The book addresses the way "scoopers" approach children, how they look like everyone else, and it also gives safety tips for parents.
Even when Cook is just talking to the kids, she's constantly teaching them ways to feel good about themselves. When she explained how her books are illustrated by someone else, she said it was important to her to read the story aloud in her own voice so the artist can picture how it should be drawn.
"Never let anyone take your voice from you," she told the students.
She also explained that while she's a good writer, she's not good at drawing. And that's OK with her.
"Everybody is good at something, but everyone can't be good at everything," she said. "Don't get frustrated if you can't do both. It's OK."
Cook brought along her two canine assist dogs. Jake, a teacup Chihuahua and Angus, a long-haired dachshund, that help her teach kids about proper behavior.
Cook's books are all about teaching kids lifelong problem-solving skills. She tackles issues that parents can sometimes find difficult to talk to children about in a way that doesn't scare or shame them.
Principal Rodney Hiser said the whole teaching staff at Jones Elementary was pleased with the program.
"It's good to have someone to teach about the aspect of writing books," Hiser said. "We thought it would be great to hear about her books, her topics and how to be tolerant and understanding of each other."
Courtesy of: Kris Stadalsky at writestuff56@comcast.net
Please consider
making a donation
to
Sunny Skyz
and help our mission to make the world a better place.
Click Here For The Most Popular On Sunny Skyz
LIKE US ON FACEBOOK!