This Teacher Is Fulfilling A Lifelong Promise, Sending Thousands Of Letters To His Former Students... But HE Didn't Write Them
April 7, 2014
Remember that funny assignment in 9th grade where you had to write a letter to yourself in 20 years? Bruce Farrer, a retired high school teacher in Canada does, and he's mailing the many thousands of notes he's saved throughout the years to all his former students in order to fulfill a lifelong promise.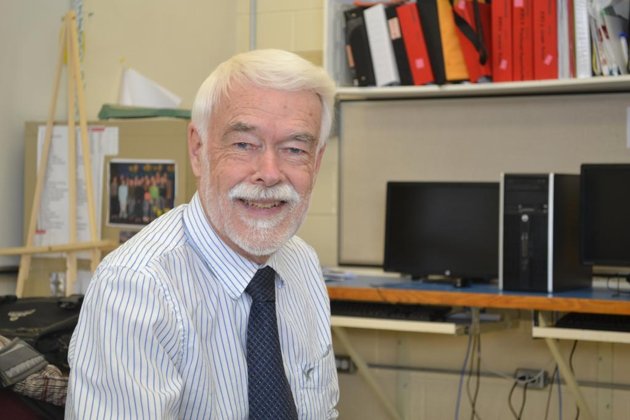 Credit: Yahoo! Shine
The 72-year-old from Fort Qu'Appelle, Canada taught for 25 years at Bert Fox Community High School, and gave the assignment to his students every year beginning in 1977. At the time, it wasn't such a common activity. Farrer says it came to his mind as a way to study the past.
"I always found history fascinating," Farrer tells the Good News Blog. "To find something old, like an old newspaper. Everyone always loves to read the price of things and what people said. We love to see that past. I thought it would be fascinating for the kids to read something from them that was old."
Farrer's students wrote the notes, turned them in, and he promised to return them 20 years later. At first, the task wasn't so hard, as he lived in a rural community and kept in touch. As the years went by, however, it became more difficult. These days, the good teacher uses Facebook, local friends and some of his old colleagues to help track down his former pupils.
"It hasn't been that easy, it's been an interesting endeavor to try and find them," Farrer comments. "Facebook has helped a fair amount. Canada 411 has been helpful, but people have cell phones now, and their numbers aren't recorded, so that has been more difficult."
So far, he's mailed out around 1,000, but he has many more to go. Farrer says he will be sending letters until the year 2022.
The response from his old students has been mostly positive; everyone seems surprised by the unique delivery.
"Most of them have been amazed at their letters," Farrer remarks. "They were amazed at how accurate they were or how little students have changed. One student said to me the kinds of things her daughter talks about is exactly what she wrote about in her letter. Maybe that helps them as parents to remember what it's like to be a 14-year-old."
Other recipients were embarrassed, or shocked by their youthful insecurities. One student wrote in his letter that he hoped to be married to a Swedish girl due to his love for ABBA, and as fate would have it, he ended up moving to Sweden for work and in fact, was married to a Swedish girl.
Pure coincidence! "He'd forgotten all about it," Farrer says.
The only person who seems slightly annoyed by Farrer's endearing project is his wife Kathy, who lost control of the dining room table due to her husband's organizational strategy. The two have five children and eleven grandchildren together, as well as an exchange student from Mexico who ended up moving in to their homestead.
Even if his partner isn't "thrilled" with the stacks of letters cluttering their home, Farrer says nothing will stop him on this journey.
"Once I said I was going to do it, well then I have to follow through," he remarks. "It's interesting for me because it has helped me touch base with many of the students. I feel a sense of satisfaction when I find somebody because then I feel like a detective."
Please consider
making a donation
to
Sunny Skyz
and help our mission to make the world a better place.
Click Here For The Most Popular On Sunny Skyz
LIKE US ON FACEBOOK!