Lottery Winner, 59, Purchases First Pool Table And Earns Spot On England's National Team
November 7, 2023
Today's good news story comes from England.
Neil Jones, a 59-year-old tiler, embarked on an unexpected journey from a humble £13 in his pocket to international pool stardom after winning a life-changing £2.4 million in the national lottery just before Christmas in 2010.
Little did he know that his initial splurge on a pool table, driven by his youthful passion for snooker, would pave the way for his proudest achievement - representing his country in the European Pool Championships in Malta.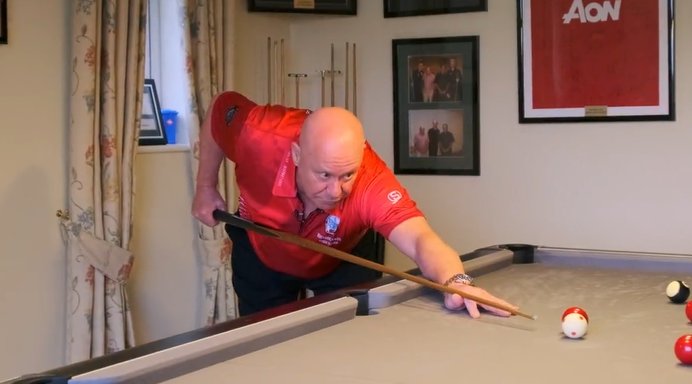 Neil Jones / The National Lottery @TNLUK
The windfall allowed Jones to retire comfortably, and the advent of Covid lockdowns provided him with the precious time to refine his pool skills in the comfort of his Stoke-on-Trent home. He rapidly ascended the ranks, becoming a regular player for his county.
Reflecting on his initiation into pool, Jones explained, "Not long after we won [the lottery], I went to the local pool hall, and there was a friend of mine who I used to do karaoke and watch the football with." His fascination with the game ignited, leading him to invest in a high-quality pool table for his home. "I was getting better, and as you get better, you can't be practicing on something that isn't very good," he recounted. "Winning the lottery allowed me to put those hours in. If I didn't win, I wouldn't have been able to buy the table, I wouldn't have had the time – I'd still be on my hands and knees tiling."
Although he narrowly missed out on his first England trial in 2021, Jones was given another opportunity in early 2023, which he seized with determination. He was bestowed with his England colors during a home nations tournament, and after a commendable debut, he was not only chosen to represent England in the European Championships in Malta, but was also entrusted with the captaincy of the team.
Despite the unwavering support from his partner, Julie Kirkham, and his family, Jones couldn't help but wish that his late father could witness his remarkable journey.
Jones shared, "My dad was so supportive of me. He was so proud. When he was in hospital, I used to tell him the county results every month and he'd say, 'You really want this don't you? It will come.' And it did – it was really emotional."
Captain of England's Pool team, Neil Jones, won a £2.4M Lotto jackpot back in 2010. Here's how his win led him on a journey to chase his dream 🎱#NationalLottery #LottoItCouldBeYou pic.twitter.com/sA7mRT6cc7

— The National Lottery (@TNLUK) October 25, 2023
Neil Jones' story is a reminder that when opportunities arise, it's our dedication and hard work that can turn them into true success. From a simple purchase of a pool table to the captaincy of the England B1 team, his journey is an inspiration to all, demonstrating that dreams can come true if we are willing to chase them with all our heart.
Please consider
making a donation
to
Sunny Skyz
and help our mission to make the world a better place.