Mom Is 'Overwhelmed' By Stranger's Kind Act To Daughter With Cancer
June 23, 2023
A mother was overwhelmed by the kindness of a stranger who bestowed a generous gift upon her child battling cancer.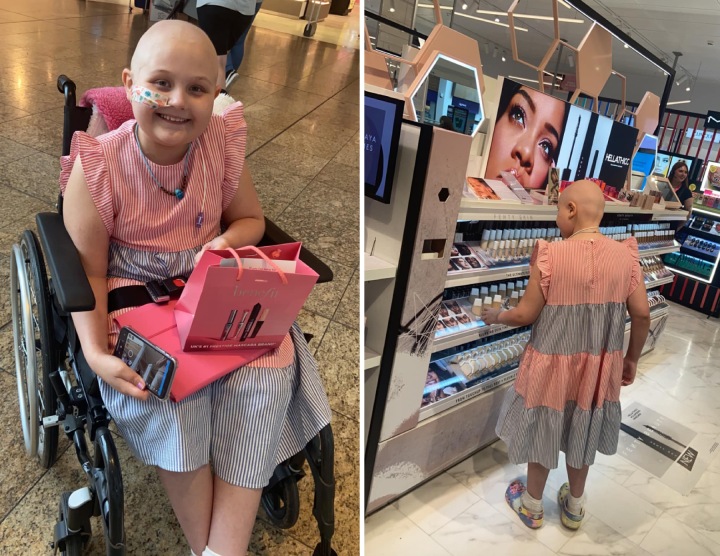 Indie shopping / Credit: Siobhan Bon Senior on Facebook
Siobhan Bon was shopping at a mall in Sheffield, UK, with her daughter Indie who is currently undergoing cancer treatment. She is battling leukaemia and is now in her fifth round of chemotherapy.
While in the Apple store, a man came up to Siobhan and said "My son had cancer, I know how you're feeling". He then looked at Indie and said "I've got something for you" and handed her £100.
The man revealed his son had also been treated for cancer and was now 10 years in remission.
"Both me and him was absolutely bawling out eyes cuddling in middle of Apple shop," Siobhan said. "Everyone looking at us but for that minute someone knew exactly how I felt."
Indie was "over the moon" at the cash gift from the stranger, saying: "Mummy, I'm rich!"
The man's generosity meant Indie, an aspiring TikTok star, could afford to buy new make-up and skin-care products and create a brand new video on the app.
And telling them his son was a decade in remission gave them both hope.
"I never got his name and I so wish I did, " Siobhan wrote on Facebook. "If you see this thank you!"
In a world often filled with negativity and hardship, stories like this remind us of the incredible power of compassion and the difference we can make in each other's lives.
Please consider
making a donation
to
Sunny Skyz
and help our mission to make the world a better place.