109-Year-Old Who Still Drives And Lives Independently Shares Tips For A Long, Healthy Life
April 27, 2023
A 109-year-old man in Little Falls, New Jersey, is still living independently and even drives his own car.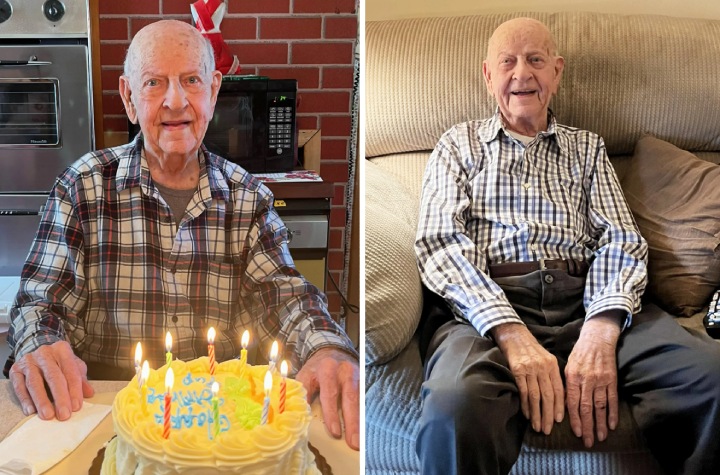 Vincent Dransfield / Credit: Erica Lista
"How do I feel? Let's go out to a dance somewhere. How about that? That's how I feel," Vincent Dransfield told TODAY in an interview.
So what are his tips for a healthy, long life?
Spend Time Doing What You Love
Vincent spent more than 80 years serving as a member of the local volunteer fire department.
When asked what brought him happiness and kept him going in life, he quickly answered: "The fire department. … I met so many friends."
"After my grandmother passed away, that's really what kept him going. Every day, he would go to the fire house from 3 to 5, and all the old guys would sit there and hang out. That was like his family," his granddaughter Erica Lista said.
Drink Milk
Vincent worked for a dairy farm when he was 15. He drank as much milk as he wanted, which he attributes to giving him a healthy boost — especially during the Great Depression.
He still drinks Ovaltine every morning for breakfast.
He's been so outspoken about it that when he when he turned 100, everyone drank Ovaltine at his birthday party.
You Don't Need To Exercise, But Keep Moving
Vincent never lifted weights at a gym. He never went for a run to exercise.
But he stayed active.
"I was 21 years old when I joined the fire department and that's the exercise I got every day — answered the fire alarms in Little Falls," he said. "I was active and ran out when the alarm went off for 40 years. Then for the next 40 years, (I continued) when I felt like it."
However, structured exercise amuses him.
"He laughs at people who jog. He's like, 'Where are they running to?'" Erica said.
Enjoy What You Eat
"What's crazy is he was not careful about his diet," Erica said. "He has eaten whatever he wants. He has never watched his weight. He's never had to lose weight. He's always been fit."
Vincent loves Italian food, hamburgers, salads, milk chocolate and other sweets.
He drinks a cup of coffee every day and occasionally has a beer.
And Finally, Stay Positive!
Vincent considers himself an optimist.
"He always had such a positive upbeat attitude, even when my grandmother passed away," Erica said.
"I keep positive. I never think any other way when something's wrong," he said.
"I'm doing fine and I hope the good Lord keeps me that way."
Read the full article on TODAY.com
Please consider
making a donation
to
Sunny Skyz
and help our mission to make the world a better place.
Click Here For The Most Popular On Sunny Skyz
LIKE US ON FACEBOOK!