A Man's Heart Stopped Beating On The Beach. Two Surfers Saved His Life
October 25, 2022
A couple in Virginia Beach is forever grateful for two surfers who also happened to be health care workers.
"We continue to be forever grateful to the heroes who saved Todd on that beach."

Donna hugs Volpe / Credit: Billy Schuerman/The Virginian-Pilot
Todd, 59, and Donna, 58, woke up early on October 2 to go for a bike ride and take pictures of the sunrise.
While walking barefoot along the shoreline and enjoying the sights, Todd suddenly collapsed.
Donna thought her husband was joking. She quickly realized this was no laughing matter. Todd's heart stopped beating and he turned blue.
"I screamed his name and screamed for help: 'God, please help Todd'," Donna told The Virginian-Pilot.
Tyler Volpe, a surfer, was in the water when Todd collapsed. Volpe is also a physician assistant.
He heard Donna's cries for help. "I knew it wasn't a normal scream," he said. "I came flying out of the water."
Paul Roy, 24, a health care worker at a local hospital, also had been surfing that morning.
Volpe started chest compressions while Roy breathed into Todd's mouth. Then, they switched positions.
A woman on the beach put her arm around Donna and prayed with her.
"I really thought he was dead," Donna said.
As Roy and Volpe continued CPR, Todd gasped a few times.
The tide was starting to come in. Other surfers used their boards to form a barrier between the rescue effort and the water.
"They kept him alive until the ambulance got there," Donna said. "It could have been two minutes; it could have been 10 days. I was watching my life end with his."
Paramedics used a defibrillator to shock his heart and restore his heartbeat. On the second shock, he regained consciousness.
Todd and Donna live in New Jersey but also own the beach condo. They planned to drive back to New Jersey that morning, but decided to first take a walk on the beach.
"Thank God we didn't leave because it would have happened while we were driving home," Donna said.
Donna posted a message on Facebook asking if anyone knew the surfers who helped her husband — they wanted to thank them.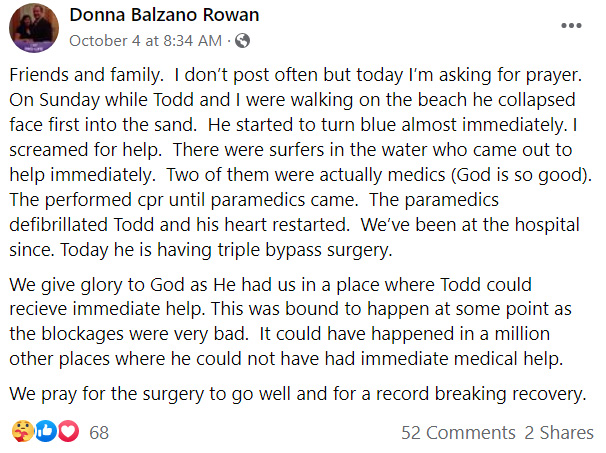 They connected with Volpe and Roy via online messaging and texts.
Volpe reunited with Todd and Donna near a gazebo outside of their home. Roy plans to meet them soon, too.
Donna gave Volpe a big hug.
"We know that God put you there on the beach with us that day," she told him. "It could have had a really different ending."
Please consider
making a donation
to
Sunny Skyz
and help our mission to make the world a better place.
Click Here For The Most Popular On Sunny Skyz
LIKE US ON FACEBOOK!