Norwegian Government Protects Freya, The Majestic Boat-Sinking Walrus
July 26, 2022
A 600-pound walrus is touring Norway, laying around and sinking boats.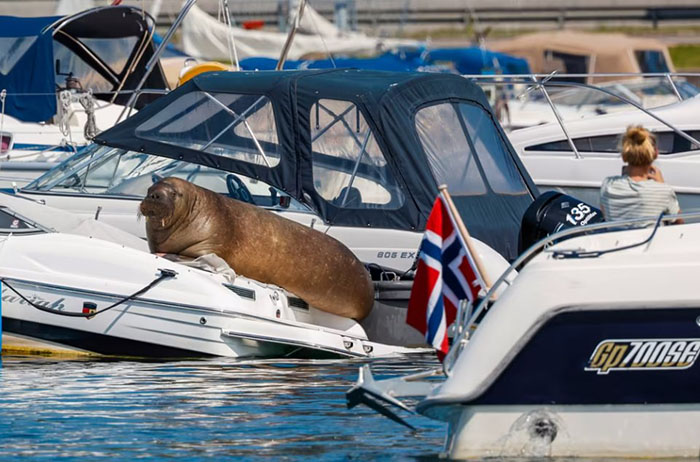 via Twitter
For the past week, a young female walrus nicknamed Freya (named after the Norse goddess of love and beauty) has enchanted Norwegians by sunbathing in the Oslofjord, making a splash in the media and bending boats.
She was previously spotted in Denmark, Germany, the Netherlands and Scotland before arriving in Oslo's Frognerkilen bay.
According to local media, Freya has sunk several small boats anchored along the Nordic coast, after trying to get up and lounge on them.
Big story in Norway this summer is a walrus we've named Freya has made it to our shores and is touring the country, laying around and sinking boats pic.twitter.com/rQolsxd88b

— Wild Geerters (@steinkobbe) July 19, 2022
Boat owners want Freya gone, but many others, however, have had the exact opposite reaction to Freya's antics.
She's been filmed chasing a duck and attacking a swan, but more often than not, dozing on boats struggling to support her weight.
Parliament is open but all I can obsess over is this walrus story.🦭🦭🦭🦭🦭🦭🦭🦭🦭🦭#LongMaySheReign #Freya #Oslo https://t.co/wPPRxN8ldn

— Sʜᴀᴜɴ Bᴀʀʀ (SB) (@ShaunBarr10) July 26, 2022
The Norwegian government has become aware of Freya and released a statement warning locals to leave her in peace.
"We encourage people in the area to leave Freya the walrus alone. She is a wild animal of around 600 kg, which is not necessarily as dorky and clumsy as one might get the impression. The walrus is a protected species and it is forbidden to disturb it unnecessarily," the press release stated.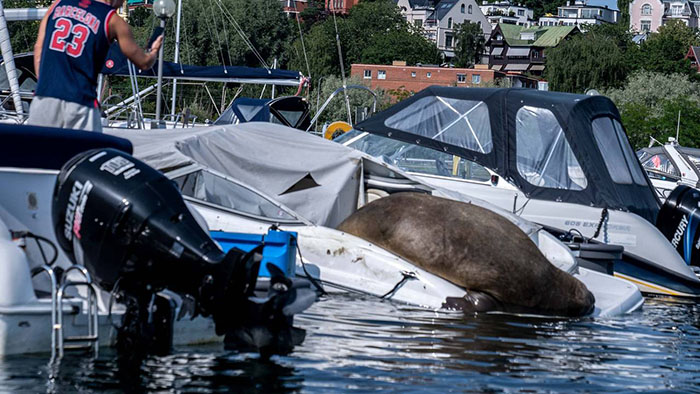 via Twitter
Norway's Directorate of Fisheries has warned spectators to keep away from Freya after multiple paddlers came dangerously close to the animal in a bid to snap some photos.
"She is doing well, feeding, resting and seems to be in good condition," Norway's Directorate of Fisheries said on Monday.
"A walrus is not normally a danger to humans as long as you keep a safe distance. But if it is disturbed by humans and doesn't get the rest it needs, it may feel threatened and attack."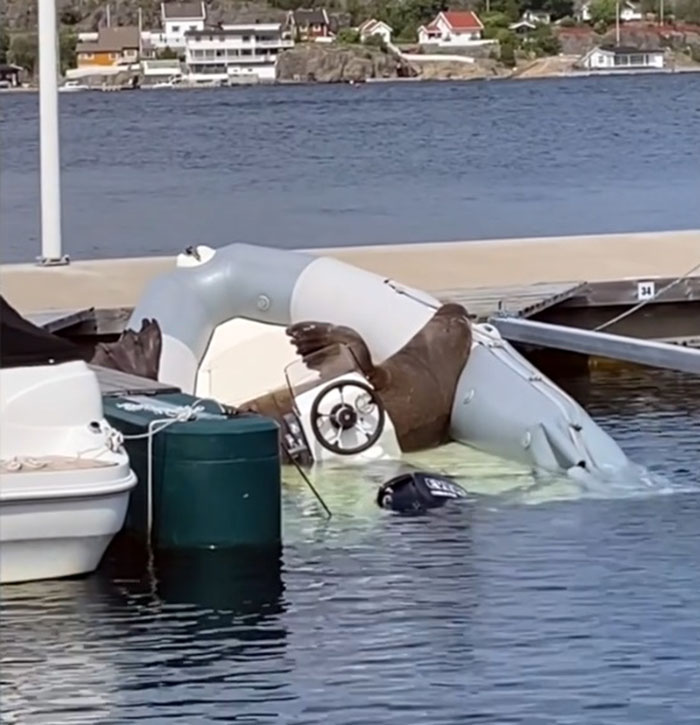 via Twitter
Researchers from the University of South-Eastern Norway say Freya is not accustomed to crowds and they can be stressful and overwhelming for her.
He needs a bigger boat.. 😂 pic.twitter.com/z2wOPjncS2

— Buitengebieden (@buitengebieden) July 13, 2022
"She doesn't get any peace," walrus expert Rune Aae told Norwegian News Agency NTB. "She needs to relax for up to 20 hours."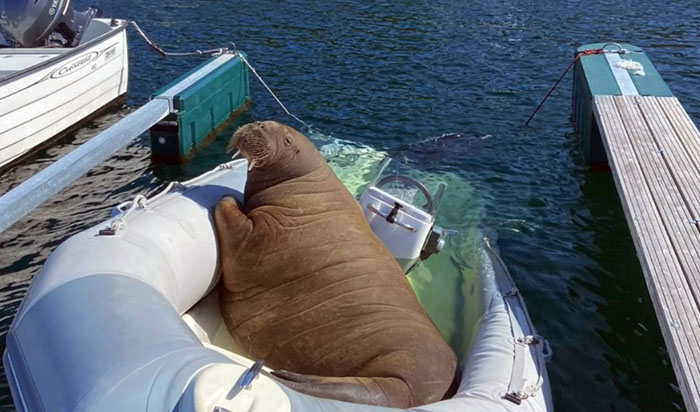 via Twitter
Researchers have built Freya her very own floating platform in an attempt to keep her safe while also protecting the boats in the area.
But the iniative hasn't worked.
"It prefers something that is easy to get into," said biologist Kjell Isaksen.
"Those who have low boats where the walrus can easily get into, here at Frognerkilen, they should consider whether it's possible to turn the boat and moor with the stern towards the quay," Isaksen added. "Then there is far less chance of the walrus getting into the boat and causing damage."
La tricheca Freya é riapparsa in pubblico nel fiordo di Oslo. In questi giorni si trova a Baerum è ed diventata un'attrazione: sale sulle barche per riposare e gioca con l'acqua anche se non tutti sono felici, soprattutto i proprietari delle imbarcazioni su cui riposa #ANSA pic.twitter.com/bnVGRt4mvp

— Agenzia ANSA (@Agenzia_Ansa) July 26, 2022
Please consider
making a donation
to
Sunny Skyz
and help our mission to make the world a better place.
Click Here For The Most Popular On Sunny Skyz
LIKE US ON FACEBOOK!