Young H-E-B Bagger Pays For Struggling Grandma's $137 Bill, Brings Her To Tears
April 7, 2022
A young H-E-B employee paid over $100 for a family's groceries after the customer realized she did not have enough money in her account to pay for everything.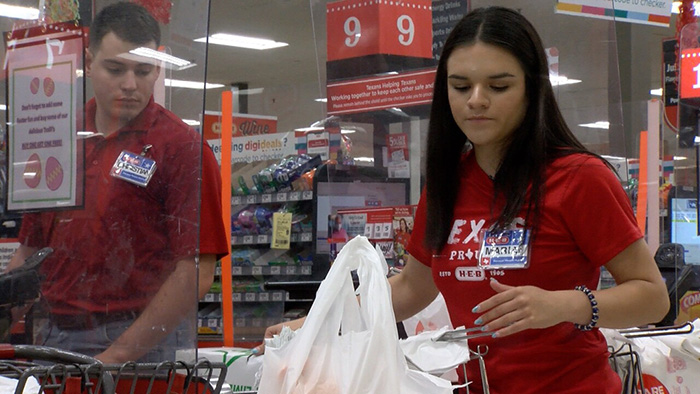 Maria / Credit: Patrick Johnstone/KRIS 6 News
Maria Balboa is a college student who also works as a bagger at the H-E-B in Corpus Christi, TX.
Last Monday, she was bagging for a woman who had two little boys with her. When it was time to pay, Maria said the woman only had $19 left on her SNAP card and couldn't afford the rest of the total.
"She was going to put back the groceries instead of a couple of items that she needed for dinner that night. I asked the cashier what the remaining total was and she said it was $137," Maria recalled.
"Immediately I heard a voice inside my head saying, 'pay for the groceries'. I stopped to think for a second but then I heard again, 'Pay for the groceries Maria!'"
The woman tried to refuse the generous offer but Maria insisted. She paid the bill.
"$137 was quite a bit of money for me that day, but still I knew that I would get it back on payday and maybe she wouldn't," Maria said.
On her next shift, Maria was called into the manager's office. She thought she was in trouble.
It turns out the woman whose groceries she paid for filled out a survey (pictured below).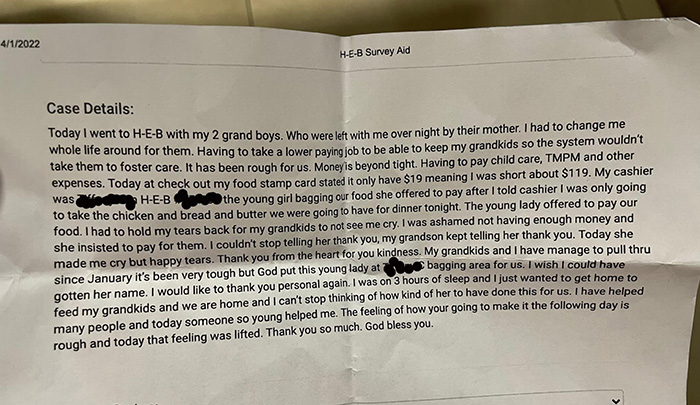 Credit: Maria Balboa
In the survey, the woman explained her financial struggles. She is providing for her two grandchildren on her own and working a low-paying job to keep the siblings out of foster care.
"I was ashamed not having enough money and she insisted to pay for them," the woman wrote in the survey. "Today she made me cry but happy tears. Thank you from the heart for [your] kindness. My grandkids and I have managed to pull through since January it's been very tough but God put this young lady at the bagging area for us. I wish I could have gotten her name."
Maria said she was brought to tears from the kind words.
The store's manager, Mark Moeller, ended up reimbursing Maria for her good deed. She also received a goody basket with groceries.
Maria shared the good news in a Facebook post and said:
"I was so grateful for their kindness as well as to the lady for writing the survey. Hearing her words made me realize that it's small things like paying for groceries that can help people out in ways we don't even know. With that being said: Always be kind and do a good deed for someone when you can. It can be something as simple as holding the door open for a stranger or complimenting them. Good things done always come back in ways we may not even realize. Always be good to the people around you, because you never know what someone else might have going on. Thank you for reading and be kind!"
Please consider
making a donation
to
Sunny Skyz
and help our mission to make the world a better place.
Click Here For The Most Popular On Sunny Skyz
LIKE US ON FACEBOOK!