How A Lost Dog Brought An Entire Community Together
February 7, 2022
A lost dog named Ruthie brought the community of Belfast, Maine, together as volunteers searched the entire town for the missing pup.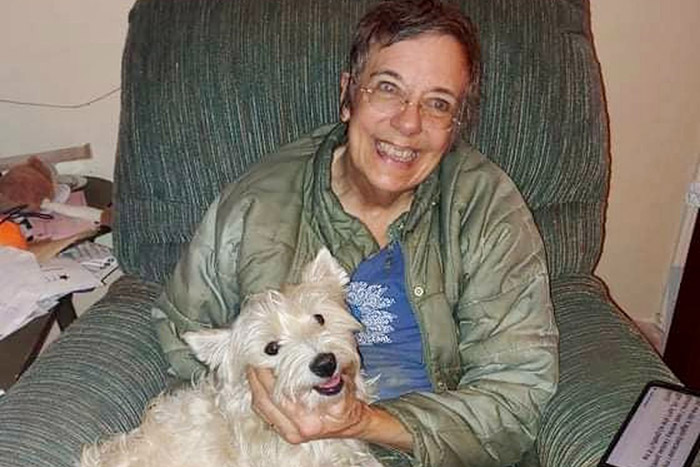 Marina and Ruthie / Credit: Kimberly Mitchell
Marina Delune, 67, said her West Highland White Terrier jumped out of her car and ran off. As the hours and then days went by with no sight of Ruthie, Marina worried her dog would never come home.
She posted on a Belfast Facebook page that she needed help looking for her lost dog. She thought only a few people would respond.
"But the response that I got was literally overwhelming," she told Bangor Daily News. "It was extraordinary. I couldn't even keep up with all the responses. I'm not very Facebook savvy, and I couldn't respond to all the posts. What happened was that half of Belfast was out looking for her in the woods."
"It was just a huge sort of snowball of community effort," said Raymelle Moody, an administrator of the Facebook page. "This community is such a big dog community. And even if you didn't know Marina and Ruthie, it was easy to fall in love with Ruthie. And because Marina is a disabled person, and couldn't search herself, it was easy to want to help her."
Volunteers scoured yards and woods for her, and even put up posters around town.
Kimberly Mitchell, 53, an animal lover who also has disabilities got in touch with Marina and headed to her home late Thursday afternoon to be of assistance. When she pulled into the drive, she had a strong feeling that the dog was nearby.
"I got goosebumps all over my body. I knew that Ruthie was there somewhere," she said.
Despite the icy rain, she checked the yard. She expanded her search to the neighbors' yards, but still came up empty-handed.
"I was looking for her logically, and it wasn't working," she said. "So I got quiet and got back in my heart. When I operate from my heart, I hear a true, simple message. I heard, 'Over there.'"
It was dark by the time she rounded the corner of a neighbor's house and saw a small hole in the bottom of their deck. Kimberly used her cell phone flashlight to peer around in the darkness.
"Way up in there [under the deck], I saw her little face. She was looking right at me," she said. "I got numb. I knew in that moment, I was witnessing a miracle. There was no thought in my head. It was all heart. I think that it was the collective love of the whole community."
Kimberly said the reunion was emotional.
"We were in a three-way hug with Ruthie in the middle. It was absolutely amazing," she said.
Please consider
making a donation
to
Sunny Skyz
and help our mission to make the world a better place.
Click Here For The Most Popular On Sunny Skyz
LIKE US ON FACEBOOK!