Stranger Keeps Iowa Man's Christmas Lights Tradition Going
December 3, 2021
Every year, Dale Marks puts up a massive Christmas lights display at his home in Des Moines to raise money for the Food Bank of Iowa. It's part of a neighborhood tradition.
This year Marks was too weak to put up his own lights. So, a stranger did it for him.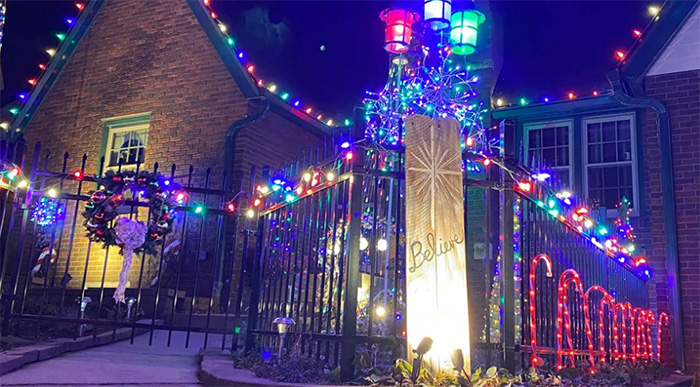 The Marks' home in Des Moines
For decades, people have come by the carload every December to the Beaverdale community to marvel at the Marks' house Christmas lights display.
The holiday spectacle goes beyond good cheer. The Marks put bins at the end of their driveway and ask visitors to donate money and food to the Food Bank of Iowa as they drive past.
"We made over 28,000 meals in cash for the food bank last year, and that's just an amazing feat," said Dale Marks.
But this year, after suffering two strokes and a heart attack, Dale was not up to the task.
Bob Coffey, who owns the local construction company Bob the Builder LLC, heard Marks' story from a friend and wanted to help. So Coffey, who had never met the Marks, brought a group of volunteers to their home to install thousands of lights.
Coffey and four of his workers spent hours putting up lights and decorations throughout the yard. He estimated that there were at least 10,000 lights.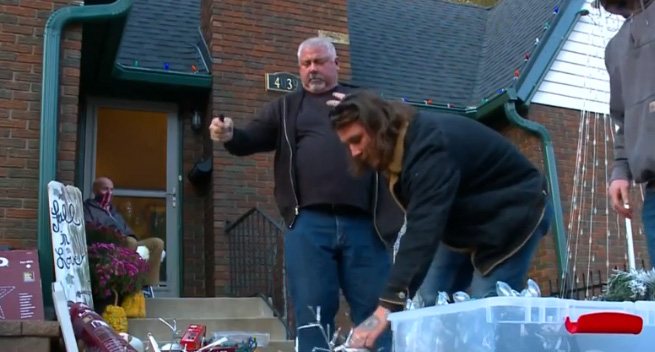 Bob Coffey and his volunteers
Everyone laughed, he said, when at the end of the day, he plugged two cords together like Clark Griswold in "National Lampoon's Christmas Vacation" and lit up the display.
"The memory of that afternoon will last a lifetime," he said, explaining that seeing Dale and Julie Marks watching from the porch made it all worthwhile.
"When we got done, I just told him to have a great night and to take care of himself," Coffey said. "And he cried. I cried … It was pretty awesome."
Please consider
making a donation
to
Sunny Skyz
and help our mission to make the world a better place.