Waffle House Employees In Alabama Save High School Graduate's Day
June 11, 2021
Employees at a Waffle House in Alabama rallied to help an 18-year-old co-worker attend his high school graduation.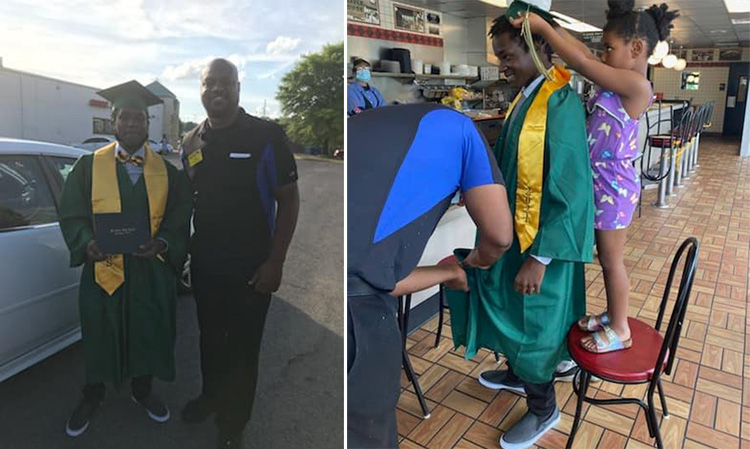 Timothy Harrison's high school graduation was being held across town when he showed up for his shift at the Waffle House in Center Point, Alabama. His manager and coworkers were surprised to see him.
"Why aren't you going to graduation?" his manager, Cedric Hampton, asked.
"I don't have any way to get across town to Crossplex for the ceremony," Timothy replied. "Besides, I wasn't able to get tickets for my family because I was working and didn't complete all of my senior activities."
That's when Cedric and his fellow employees went to work, including an assistant manager who was off that day.
"I was like,'you're going'," Cedric told WVTM.
Shantana Blevins drove Timothy over to the high school to get his cap and gown.
Cedric, along with Chasadee Brown and Patricia Richardson, headed to a nearby clothing store where they bought Timothy new slacks, a dress shirt and a tie.
Shantana drove Timothy across town just in time for commencement. She didn't have a ticket, so she waited in the parking lot for the ceremony to end.
"I had people want to see me succeed, so it kind of made me excited," Harrison told WVTM. "When I put on the clothes, that was a different feeling. I don't even know the words. A million dollars? It was the best feeling."
Please consider
making a donation
to
Sunny Skyz
and help our mission to make the world a better place.