Avengers Assemble To Comfort The Boy Who Protected His Sister From A Dog Attack
July 16, 2020
The Avengers have assembled to praise a 6-year-old boy who risked his own life to protect his 4-year-old sister from a dog attack.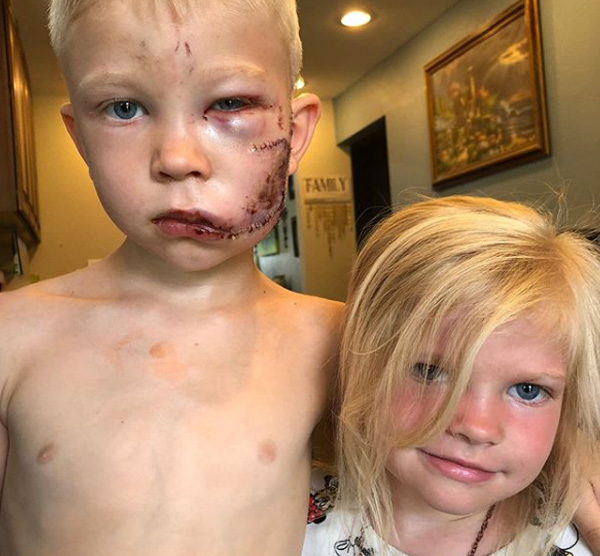 Bridger Walker, from Wyoming, stepped in front of his little sister as a charging dog approached, taking several bites to the face and head, which resulted in 90 stitches.
Asked by his family why he jumped between his sister and the dog, the family quoted him as stating, "If someone had to die, I thought it should be me."
After news of his bravery reached the media, many famous "heroes" reached out to Bridger.
So far, Anne Hathaway, Chris Evans, Robert Downey Jr., Mark Ruffalo, Tom Holland, Chris Hemsworth, Hugh Jackman, Zachary Levi, the Russo brothers, and Robbie Amell have reached out.
Chris Evans, who plays Captain America in the films, provided a video message to Bridger.
Robert Downey Jr., followed Evans' lead and made Bridger a promise.
"When I first posted for Bridger, I expected maybe 500 likes at most and maybe a couple dozen reshares," Nikki Walker said on Instagram. "But here we are. So much love from all walks of life (including a few celebs)! And we just got off a call with a friendly neighborhood idol. (Pic is of Bridger's reaction right after the call.) Bridger is over the moon!"
"I'm not an Avenger, but I know a superhero when I see one," Anne Hathaway wrote on Instagram alongside photos of Bridger and his sister. "I can only hope I'm half as brave in my life as you are in yours, Bridger. Wishing you an easeful recovery, and many cool looking rocks. Hey @markruffalo, do you need a teammate??"
Bridger's parents released a full statement on the incident and asked that the dog's owners be free of judgement and kept in your prayers.
They also had one request:
"After Bridger's actions, our family has settled on a simple request: may we each actively strive to bear one another's burdens; stand up for and protect those that are weak, oppressed, or those whom the world might forsake; mourn with those that mourn, comfort those that need comfort, and love one another. May we follow Bridger's example, approach the world as a child, and bring greater peace to our own homes, communities, states, and countries."
Please consider
making a donation
to
Sunny Skyz
and help our mission to make the world a better place.
Click Here For The Most Popular On Sunny Skyz
LIKE US ON FACEBOOK!