DJ John Krasinski Hosted A Virtual Prom For The Class Of 2020
April 18, 2020
With high school proms cancelled across the country, John Krasinski hosted an online version for the class of 2020.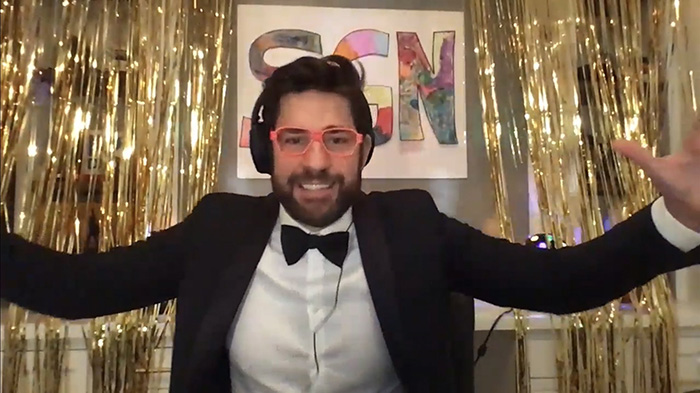 "I can't take it anymore how much you are all missing your prom," Krasinski said. "So let's do something about it!"
On Friday night, Krasinski hosted a virtual prom, featuring performances from Billie Eilish and the Jonas Brothers.
Eilish is actually a huge fan of "The Office," and even sampled a snippet of dialogue from the show for her song "My Strange Addiction."
"I absolutely adore you guys," Krasinski said to Billie and Finneas. "I've been a big fan of you since forever. The fact that you used 'The Office' in a song blew my brain out, and I don't think I fully recovered — ever."
Chance the Rapper and Krasinski's "The Office" co-star Rainn Wilson also made appearances on the live stream.
.@JohnKrasinski's Some Good News (SGN) Prom on his YouTube livestream tonight featured surprise performances from @BillieEilish & @Finneas ("bad guy"), the @JonasBrothers ("Sucker"), and @ChanceTheRapper ("All We Got")! @somegoodnews #SomeGoodNews #SGNProm pic.twitter.com/V2FD7fTuwk

— Music News & Rumors (@MusicNewsRumor) April 18, 2020
Throughout the night, high schoolers and their parents posted photos and videos to thank Krasinski for hosting such a wonderful prom night.
everyone say: thank you, john krasinski. he's really out there doing the most and it's so appreciated. #SGNProm pic.twitter.com/5SDzOjSPVW

— naomi (@marvelunsolved) April 18, 2020
and the BEST dj award goes to...@johnkrasinski #SGNProm 🏆 #SomeGoodNews pic.twitter.com/A4DEYSuYV2

— karla (@bluntsforce) April 18, 2020
thank you to @johnkrasinski for hosting the most amazing prom for our #ClassOf2020 ❤️ #SGNProm pic.twitter.com/kLQZ9BO250

— Meg Simmons (@MegsnTodd) April 18, 2020
Can I just say #SGNProm wasn't just a "virtual prom" it was the ultimate display of love & kindness. Going live on YouTube...multiple celebrity guests, music videos, songs, all of it! It was risky, but it paid off with all the feels! 👏 Bravo @johnkrasinski 👏👏@somegoodnews

— Lauren Steenhoek (@LaurenSteenhoek) April 18, 2020
the crossover of the decade what is happening at #SGNProm pic.twitter.com/K09c0JbX3K

— " (@biglttlefleabag) April 18, 2020
@johnkrasinski getting ready for prom #SGNProm #SGN pic.twitter.com/Dx5HkaS5bE

— mayamehlman (@mayamehlman1) April 17, 2020
I've been really torn up about how senior year ended, but prom with my bestie on FaceTime, JOHN FREAKING KRASINSKI, AND my favorite artists @jonasbrothers AND @billieeilish was AMAZING. Literally the best prom ever. You are truly the best, @johnkrasinski. #SGNProm @somegoodnews❤️ pic.twitter.com/gUJdn00XKm

— Jenna💫 (@jennaamegan) April 18, 2020
I put a bow tie on my dog for #SGNProm ! #seniorprom2020
@somegoodnews @johnkrasinski pic.twitter.com/MozPhJugT2

— Campbell (@campbelldb8) April 17, 2020
@johnkrasinski thank you for hosting prom, mine was canceled and my date and I dresses up a FaceTimed while watching and dancing. My mom even took social distancing prom photos for us #SGNProm pic.twitter.com/Ba89wfSpK5

— Abby (@Abbyilr17) April 18, 2020
We had a great time in Massachusetts! Thank you @johnkrasinski #SGNProm pic.twitter.com/7bZ7Zcf0GW

— denny ♏️ (@dee_ander7) April 18, 2020
As a teacher, I'm so thankful that this huge thing you did, a virtual prom for seniors of the 2020 class, touched so many students and their parents ❤️ pic.twitter.com/xUrhBDSs9b

— Teresa Kammerer (@KammererTeresa) April 18, 2020
Goodnight class of 2020!!! Happy prom!!! #SGNProm pic.twitter.com/fgQJhbCKQw

— John Krasinski (@johnkrasinski) April 18, 2020
Please consider
making a donation
to
Sunny Skyz
and help our mission to make the world a better place.
Click Here For The Most Popular On Sunny Skyz
LIKE US ON FACEBOOK!