A Food Delivery Mistake Became A Blessing For A Couple With 8 Children
March 5, 2020
A small act of kindness can truly mean the world to someone else.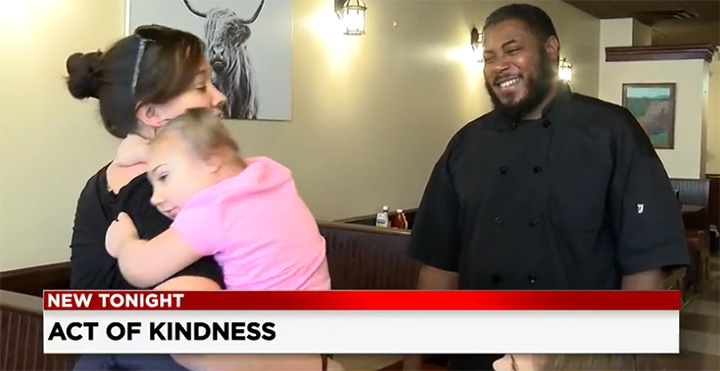 Chef/Owner Demond Germany with Lisa West
Lisa West and her husband have eight children so walking into a restaurant is generally not an option. Last week, her husband surprised her with a date night dinner delivery from Scratch Steakhouse and Lounge in Louisville, Ohio, but unfortunately, the delivery service forgot part of their order.
Lisa called the restaurant and spoke to the owner, Demond Germany, who took it upon himself to personally deliver not only dinner for the parents, but the entire family.
Lisa took to Facebook to praise Germany and let him know how much the gesture meant to her family.
"Last night Jon wanted to surprise me with a "date night" dinner. He ordered 2 dinners from Scratch Steakhouse and Lounge in Louisville (Ohio) through Grub Hub. When the dinners arrived, a couple items were missing. I called the restaurant to try and figure out if this was a mistake on their end or on Grub Hub's end. I ended up speaking with the owner, Demond Germany. He was so kind and apologetic and together we figured out this was an issue with Grub Hub and not Scratch.
Demond then asked if Jon and I had been into the restaurant before. I told him no because we have eight children (ranging in age from 18 to 3 yr old twins) so it's a little hard for us to get out of the house. He sounded pretty shocked to hear that! Lol. So this man then proceeds to ask me where I live and tells me that he wants to not only replace our dinners but treat our entire family to dinner and says he will deliver it personally! I was blown away!
Demond just showed up at our house a half an hour ago with 2 large bags that held enough food to feed a small army! He brought the most delicious steaks and yummy garlic mashed potatoes, countless hand breaded chicken fingers (each the size of my hand) and fresh cut french fries along with dipping sauces and utensils. I met him in the driveway and stammered around to express my gratitude.
What Demond didn't know is that Jon and I rarely get out for a "date night" not only because we have many children but mainly because one of our 3 yr old twin girls is immunocompromised and medically complex. She requires 24/7 care and we don't have a sitter equipped to handle her needs. I am sure he also wasn't aware that today is Rare Disease Day or that I had shared difficult news with our family and friends today regarding our sweet medically complexed miracle of a daughter.
But God knew and I believe He used Demond tonight to deliver this incredible feast of a blessing along with a message. Perhaps God worked through this amazing owner of Scratch with such a generous heart to remind us that He knows our hearts' worries, He sees our struggles, He hears our prayers, we have not been forgotten or forsaken and He loves us endlessly.
If you have the chance, stop into Scratch for dinner and/or drinks. The food is top notch incredible but, more importantly, the owner is pure gold. Thank you, Scratch, and thank you Demond, for reminding this mama and daddy tonight that God is always ALWAYS faithful."
It was one simple act of kindness that provided so much more than a family dinner. It was truly food for the soul.
Please consider
making a donation
to
Sunny Skyz
and help our mission to make the world a better place.
Click Here For The Most Popular On Sunny Skyz
LIKE US ON FACEBOOK!