No More Death Row Dogs With Help From 'Students Saving Lives' Program
August 31, 2013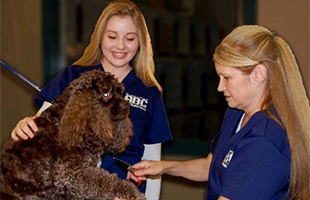 Across America, an estimated 6 to 8 million cats and dogs enter shelters each year and approximately 2.7 million of them are euthanized, even though they are considered healthy and adoptable, according to the Humane Society of the United States (May 2013). There has to be a way to help these animals find their forever home.
One company with a national reach in the pet industry is working to make a difference. The 'Students Saving Lives' program at Animal Behavior College (ABC), headquartered in Santa Clarita, Calif., is part of the school's international campaign to improve shelter dog rehabilitation and adoption. All students in the ABC certified dog trainer instructor program are asked to volunteer at least 10 hours of training time to a local shelter, humane society or rescue organization.
Since launching the program in 2004, more than 7,800 ABC students all across North America have donated more than 93,000 hours to animal shelters and rescue facilities, saving numerous pets from becoming death-row dogs and cats.
A vocational school specializing in animal-related careers, ABC currently offers three certification programs—dog obedience instructor, veterinary assistant and grooming instruction. Its unique educational format combines distance with hands-on learning and features training locations in all 50 states as well as in Canada.
"Dogs saved my life, so I wanted to save theirs, I wanted to do whatever I could to save as many lives as possible," said Debbie Kendrick, vice president of ABC and founder of the 'Student Saving Lives' program.
Debbie's dog training hobby became her livelihood after losing her job in the aerospace industry. The 'Student Saving Lives' program is a reflection of the gratitude she has toward animals.
ABC graduate Casey Cogdell volunteered at the Virginia Beach SPCA. During her time at the Virginia shelter, she trained a Boxer mix named Brownie.
"He was very hard to manage because he had so much energy and I was scared he wasn't going to be adopted," Casey said. "I worked with him consistently for a few weeks, teaching him basic obedience skills such as sit and stay. Someone eventually adopted him—he found his forever home!"
Learning basic behaviors, such as sit, stay and potty training, can make a real difference in these dogs and cats lives.
The time spent training these animals decreases the amount of them who become "Death-row dogs and cats," noted Tanya Roberts, a behavior specialist at the Oregon Humane Society in Portland. "Training shelter dogs keeps them well behaved while they are here, making them more adoptable, so they have a shorter stay, allowing more dogs to come through and have a chance at adoption."
---
Story contributed by: Tamara Argueta, ABC | Image: Facebook
Please consider
making a donation
to
Sunny Skyz
and help our mission to make the world a better place.