Stranger Shows Kindness to WWII Veteran Robbery Victim
August 29, 2013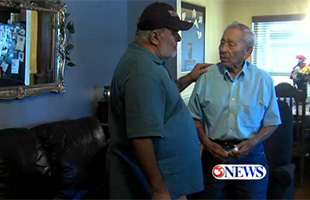 A stranger who heard the news about a World War II veteran who was robbed in a grocery store parking lot this week wanted to do something nice for the man on Friday.
It was Wednesday when 93-year old Pedro De La Garza was sitting in a car in the parking lot of a local HEB. He kept his wallet in his shirt pocket, and a man approached the car window, reached in and stole it.
The thief pulled $20 out of the wallet before tossing back into the car and escaping.
When Fabian Garcia saw the story on the news, he thought of his own father.
"People have no heart at all," Garcia said. "For someone his age; someone that went to war so that we can be free."
Garcia wanted to make up for what the thief had done to De La Garza, so he gave him with a $20 bill to make good on the money that was stolen from him, and presented the veteran with an American flag.
De La Garza was overcome by his war memories, evoked by the Garcia, the son of another WWII veteran. Garcia spent time reminiscing with De La Garza about his own father.
"My dad was a medic during World War II, and he was in the same area as Mr. De La Garza," Garcia said. "He's been gone since Dec. 24, 1995, and to this day, I still miss him."
After only a few minutes, De La Garza was so touched that he had trouble thanking Garcia for his kindness.
"I thank him for it, and..." De La Garza said.
"He didn't think there was anybody else out there, you know, because of his age, and when I told him about Mr. Garcia, he was, you know, very, very happy," said Grace Lerma, De La Garza's daughter. "And when they saw each other for the first time, it was very, very touching."
Lerma said that when Garcia handed her father the money, he couldn't believe it.
"He just looked at him like he was amazed that Mr. Garcia was actually giving him money," Lerma said. "And I told him, 'You don't have to do that,' and he says, 'I want to.'"
The family immediately hung the new flag on their house, and De La Garza said he feels like he now has another son.
---
Source: Kiii News
Please consider
making a donation
to
Sunny Skyz
and help our mission to make the world a better place.