Man born without hands is engineer for NASCAR's most winning team
August 9, 2013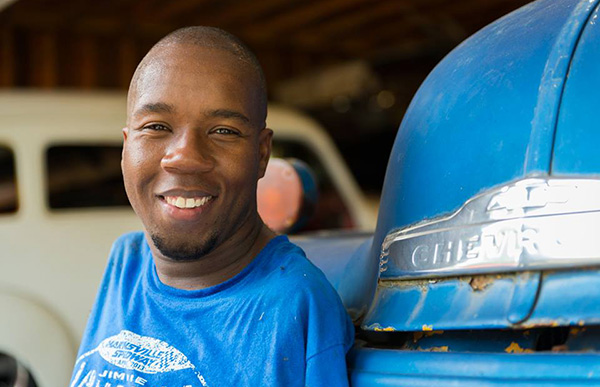 Richie Parker, 30, grew up with a chorus of doubters telling him what he couldn't do without hands - ride a bike, drive a car or find a good job. But Parker never listened, and today he drives his own car and is a respected engineer for NASCAR's most winning organization, Hendrick Motorsports.
"Every step of the way in life there have been people who say I can't do things. Said that I couldn't ride a bicycle, there have been people who said that I couldn't live on my own. Couldn't get a good job and support myself or I couldn't go to college and graduate," the inspiring engineer told ESPN in a recent interview.
"I don't listen too much to people when they tell me I can't do something. There's not a whole lot that's gonna stand in my way," says the man who takes pleasure in solving engineering challenges.
Young Parker told ESPN that he isn't sure where he got his relentless drive to achieve, but if you listen to his parents tell their side of Richie's story, you would probably get a hunch.
In May 1983 when Richie Parker was born in Beaufort, S.C., doctors told his parents, Tracy and Lottie Parker, that their son had been born with a non-genetic birth defect called bilateral amelia that left him without arms.
Richie's father, Tracy, said he was surprised for all of five minutes.
"I was just sort of dumbfounded, like 'what do you mean?'" said Tracy Parker.
But that was before he saw his son.
"He was the cutest baby," said Richie's father. "He was the cutest little boy. After about five minutes it was 'when can I take my kid home? Just gimme my kid.'"
Richie's mother didn't waste a lot of time focusing on what her son was missing, either. She had already began problem solving in her mind when she got the news.
"I'm thinking, how we gonna get through this? How would he eat? How would he open doors. How would he do just the normal day-to-day things? But when I saw Richie, there was no question after that," said Lottie.
"We wanted his childhood to be as close to any other child's childhood as possible. That's always been our attitude. We are going to make it work. We might do it differently but it will work," she added.
And his parents did make it work, explained Richie.
"There were always things around the house that made it so that I didn't need to ask somebody else for help to do it and that was always important to me," he noted. "I had two parents that from day one tried to make it so that my life was, I guess you could say that my life was as normal as possible. Whatever that is," he added.
Richie's parent's efforts, including designing a way for him to independently ride a bicycle infused him with a sense of independence that inspired him to start focusing on cars as he grew up.
"I always wanted to drive," said young Richie. "I was told by a few different people well, 'if there's a bus in your area or if there are taxicabs, that's all you need to do. You should use that as your transportation'. But that just wasn't me," he said.
When he was 15, Richie saw his dream car – a 1964 Chevy Impala SS and his parents convinced the driver to sell it. Today, the young engineer still drives it.
"If the bicycle gave him a certain degree of freedom, the car I think gave him a greater amount of independence and pride," said his father. "When using that car. Everybody is on the same level."
Eight years ago, Richie's drive and love for cars led him to apply for an internship at Hendrick Motorsports and a thoughtful decision by Hendrick engineering manager Rex Stump gave Richie the opportunity of a lifetime.
"I think I had about 20 resumes that I went through before I settled on Richie's," said Stump. "I knew he could do the things that I needed him to do it was more a question of how."
He said they sat down together and Richie showed him how he worked on the computer.
"I write with my right hand you write with your left hand, he happens to write with his feet," said Stump.
Richie's internship was supposed to have lasted 10 months but eight years and five organization championships later he is still with the company. He currently works as a vehicle engineer designing chassis and body components for all four of the organization's race teams. And it isn't an easy job, he explained.
"It's very demanding. When you have someone like Chad Knaus comes from the race track and he says he needs something next week that's gonna help him win a race then 'no' is never the answer," said Richie.
He's transition into the job was also by no means easy as well.
"There were a lot of people that when I first started at Hendrick Motorsports, they had no idea what I could do and what I was going to do there. I have some guys that I am good friends with now and they told me that when they heard I was coming and when I first got there, their biggest thing was 'what is he going to do?'" explained Richie.
In the meantime, though, the high-achieving engineer said he is always looking to achieve even more.
"I'm just never satisfied," said Richie. "It's what drives me. I don't know where it comes from. And sometimes it kinda drives me crazy but that's how I live my life."
---
Source: The Christian Post | Image: Facebook/Richie Parker
Please consider
making a donation
to
Sunny Skyz
and help our mission to make the world a better place.