He Was Hours From Seeing His Son's Birth When His Flight Was Grounded; Strangers Gave Him A Lift
August 13, 2019
Sgt. Seth Craven was able to see the birth of his son on Friday in Charleston, WV, thanks to the kindness of total strangers.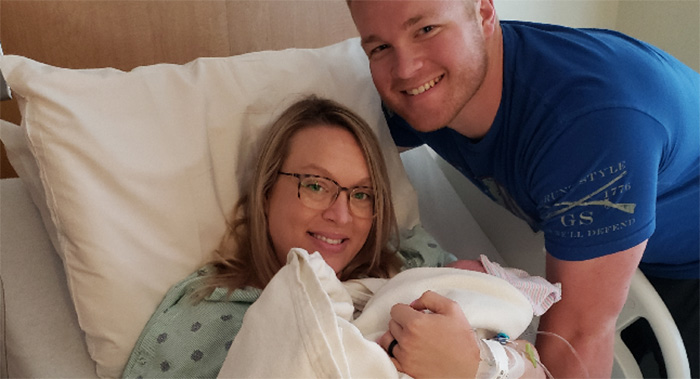 Credit: Seth Craven
Craven, 26, had to get around the world to be at the hospital for his wife's scheduled caesarian delivery.
He was in Afghanistan where he serves with the West Virginia National Guard. He flew to Kuwait and then to Philadelphia, where matters grew complicated.
Storms caused a cancellation so he was forced to stay in a hotel overnight. He was scheduled to fly out the next morning.
While sitting on the plane Thursday morning, they experienced maintenance issues. After about 30 minutes of remaining seated on the plane, everybody had to get off and went back inside.
After that was delay after delay.
"They just kept pushing it and pushing it," Craven said. "If they had canceled from the beginning, I would have found a way home somehow."
"Because of the storms, there were not rental vehicles at all from the airport," he said. "The next flight wasn't until 10:30 a.m. the next day. So I would have missed all of it."
Fortunately, word of Craven's plight started circulating among passengers.
His story reached Charlene Vickers who was also on a deadline. She needed to reach Charleston by noon on Friday. She lives in the Philadelphia area, so her vehicle was parked at the airport.
She introduced herself to Craven and said, "I'm getting to West Virginia tonight, come hell or high water. So are you willing to join this crazy party of ours?"
Craven didn't even wait to get his suitcase. He rode shotgun for the eight hour drive with Vickers behind the wheel and two of her work colleagues in the back seat.
The group arrived at his house just past midnight. His 9-pound, 8-ounce boy, Cooper, was born the next morning.
"If it wasn't for Charlene I never would have made it," Craven said. "All she wanted in return was pictures of the baby."
Please consider
making a donation
to
Sunny Skyz
and help our mission to make the world a better place.
Click Here For The Most Popular On Sunny Skyz
LIKE US ON FACEBOOK!