Man and dog save 2 sisters from drowning in icy Canadian river
April 2, 2013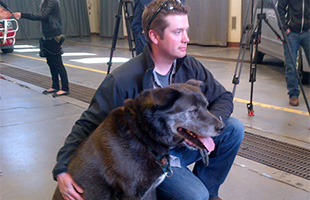 Adam Shaw and his loyal dog saved two young girls from drowning in an icy North Saskatchewan River in Edmonton, Cananda this past Sunday.
Sisters Krymzen, 10, and Samara, 9, were tobogganing with some friends at a nearby park while the family was preparing Easter dinner.
The toboggan slid off the snow and landed on the ice. While the two sisters attempted to get back to the safe snow, the ice broke and Samara fell in.
"I looked down to see one young girl floating in the river and her sister trying to pull her out," Shaw told Edmonton reporters.
By the time Shaw arrived to help, Krymzen, who was attempting to pull her sister out, had now fallen into the icy river as well.
Shaw pulled out Krymzen, but Samara was now floating downstream.
"She was bobbing in and out and we could barely see her, so we just started running down the ice trying to get close to her," Shaw said.
"I said, 'Can you swim toward the ice?'" he said. "She said she couldn't move her arms, couldn't move her legs."
Shaw tried throwing out his dog's leash but could not connect. After getting closer and closer, Shaw and his dog both crashed through the ice. His dog Rocky was able to get back onto the firm ice with the help of Shaw pushing. Shaw followed by pulling himself up with Rocky's leash.
Samara was now about 50 meters down river and too far to reach. Shaw was running out of ideas and then the dog jumped in.
Rocky swam to Samara so that she could grab onto his leash. "I called him back and he swam towards the ice and breaking the ice as he was getting closer trying to get up," he said. "I managed to grab him and grab the girl's arm and pull them both up onto the ice."
The two sisters were taken to the hospital where they stayed overnight. They both made a full recovery.
Please consider
making a donation
to
Sunny Skyz
and help our mission to make the world a better place.