He Paid For The Order Of The Car Behind Him. The Kind Gesture Saved The Person's Life
December 8, 2017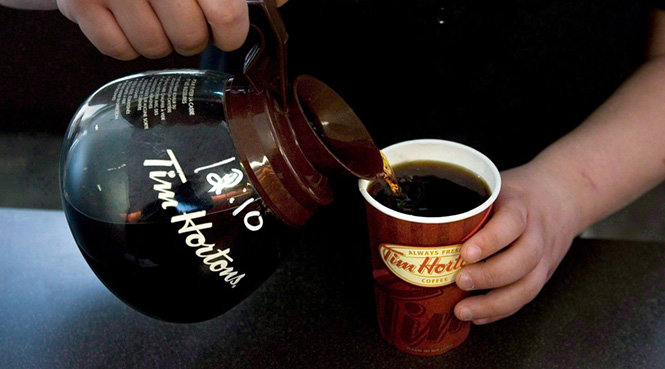 Glen Oliver always pays for the person behind him in the drive-thru at his local Tim Hortons in Pickering, Ontario.
On July 18, his act of kindness saved a life.
According to a November 9 column by Ian McMillan of the Pickering News Advertiser, the newsroom received an anonymous letter outlining an act of kindness that happened this summer at a Tim Hortons.
"The letter writer wrote about being in a bad place in July of this year, so bad in fact that they (I don't know whether the author was a woman or man) intended to take their life. July 18 was going to be their last day," McMillan said.
While in the drive-thru, the lady at the window said, "The nice man already paid for it and he said to have a great day."
"I wondered why someone would buy coffee for a stranger for no reason. Why me? Why today? If I was a religious sort I would take this as a sign. This random act of kindness was directed at me on this day for a purpose," the letter read.
"I decided at that moment to change my plans for the day and do something nice for someone. I ended up helping a neighbor take groceries out of her car and into the house."
The letter writer had a message for the person who paid for their order.
"Thank you from the bottom of my heart, and know your kind gesture has truly saved a life … On July 18, 2017, I not only had a great day, I had the greatest day!"
The man paying it forward was identified as Glen Oliver, a Pickering resident who read the column in the local paper after being alerted to it by his wife.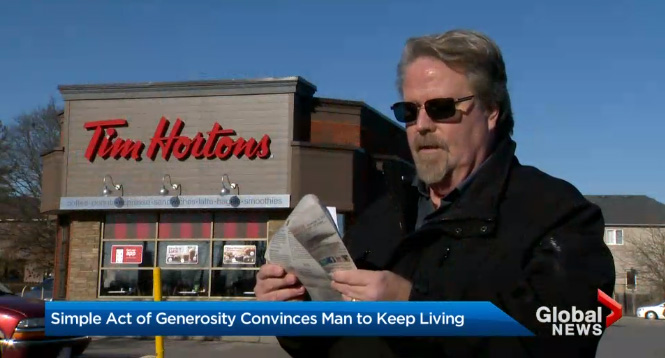 Glen Oliver reading the letter
Oliver said he first starting paying it forward years ago after seeing someone searching for change. He said he would pick up their tab, and now it has become a regular habit.
"It's exponential now, you know? Like such a small, insignificant thing to most people just turned out to be … the planets align for somebody."
Please consider
making a donation
to
Sunny Skyz
and help our mission to make the world a better place.