Good News of Christmas campaign donates to 47 needy families
November 27, 2012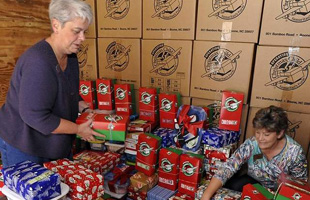 The Quincy Herald-Whig's Good News of Christmas campaign started 24 years ago in Illinois in an effort to help less fortunate families enjoy the holiday season.
Volunteers donate their time and or money to the cause which helps 47 needy families every year. The families are chosen by caseworkers who look for families that may have lost jobs, experienced an expensive medical injury, or generally suffered a major set back.
"A lot of families have been working hard and something happened in the past year. It might have been a job loss, a medical situation which has given them a setback or made things really tight," said Emily Robbearts, a caseworker for the campaign. "They're working hard to hold it together but don't have any extra for Christmas."
For most volunteers, the goal is making Christmas an enjoyable one for children whose parents can not afford to buy them gifts. Many of these volunteers can not afford to make a monetary donation, so they help to do the shopping and wrapping.
In one case a woman, who remains nameless, working three jobs struggling to support her family suffered a workplace injury which sidelined her for the holidays.
"I couldn't get unemployment. I didn't have insurance. I didn't have nothing," she said. "The harder I tried, I kept on going down, down, down."
That all changed when the a truck pulled up to her house unloading boxes of gifts.
"This great big truck showed up at my house. They said we have something for you. They brought in a whole bunch of stuff," she said with tears still choking her voice some 20 years later. "We didn't wait until Christmas. It was right then and there. The kids were so happy, laughing. I counted myself so lucky. They made my year that year."
The Quincy Herald-Whig's Good News of Christmas campaign changed her life. Ever since that day, she had a new positive outlook on life. Now, she owns her own business, car, and home.
Sometimes in life you get so down about your luck and you need something to happen that will turn it all around. That is what this feel good campaign is doing for families every year during the holiday season.
Please consider
making a donation
to
Sunny Skyz
and help our mission to make the world a better place.
Click Here For The Most Popular On Sunny Skyz
LIKE US ON FACEBOOK!