High school runner stops mid race to save opponent's life
September 29, 2012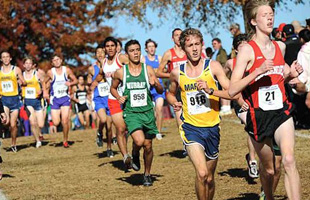 Seth Goldstein was on his second lap during a high school race when he noticed an opponent had dropped to the ground not to far in front of him.
As other runners kept going, Goldstein decided that stopping to help someone in need was more important than trying to win a race.
The fallen athlete was having a seizure from the heat. Goldstein took complete control of the situation and stayed calm the entire time.
Jessica Chandler, a mother of one of the athletes in the race ran up to help.
"Honestly, I was in shock," said Chandler. "But this guy was taking complete control. He was like, 'You - call 911. You - go get some ice.' He turned him on his side. I thought he was a parent or an EMT."
Goldstein was a trained lifeguard, but he had never dealt with a situation like this before, as the body began shaking again.
"He had bitten his tongue and was bleeding pretty bad," said Goldstein. "I feared he was going to choke on his blood. I rolled him on his side so he wouldn't asphyxiate."
Goldstein explained to concerned parents that this was normal, and that he'd seen this before.
According to Goldstein after the race, he had actually never seen that situation before. He only wanted to keep everyone calm during a moment of panic. A true leader.
Once the ambulance arrived, EMTs took the fallen runner to the hospital and treated him to a full recovery.
Goldstein looked up at the EMTs and asked them if he could finish the race. After a funny look, they told him to finish. They had everything under control.
"Everyone was clapping for me, like I was the chunky kid who couldn't finish," he said. "They were all cheering and saying, 'You can do it!' I'm thinking, 'C'mon, man!' "


Please consider
making a donation
to
Sunny Skyz
and help our mission to make the world a better place.
Click Here For The Most Popular On Sunny Skyz
LIKE US ON FACEBOOK!