Woman takes in abandoned kids and raises them for success
July 17, 2012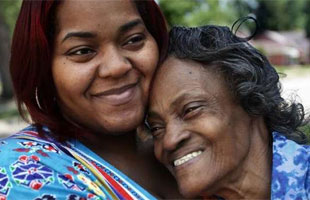 80 year-old Ruby Dunson of Detroit, Michigan has been raising abused and neglected kids her entire life. She has never asked for anything in return.
Mothers would bring their newborns to her door and ask her to watch them while they went to a concert, or on a date. Countless times the mothers never returned.
Ruby ended up raising 10 neglected children who were not her own. The best part? All of them ended up with successful lives and good careers.
Nurses, paralegals, police officers, and doctors just to name a few. A life these children would have never had if they were not left with Ruby Dunson. Without a caring parent to teach these children right from wrong, their lives could have easily ended up in crime and drugs.
Dunson's good deeds have been recognized recently due to an interview with U.S. Attorney Barbara McQuade, who used to live in Dunson's current home.
"She is an inspiration," McQuade said. "She is a quiet hero who saved children and guided them to become highly productive citizens."
When asked why she raised these children on her own, Dunson replied, "I believe God was testing me. He put those kids at my door and said, 'What are you gonna do?' "
One child, Theresa Dunson, was abandoned at the hospital. After hearing about her through social services, Dunson went to the hospital and slept there for a month before bringing her home and eventually adopting her. Many others were adopted in the same manner years later. Dunson could not bear to leave them all alone with no place to go.
Words can not explain the size of the heart inside Ruby Dunson. She has been looking out for others her entire life and giving the less fortunate a life they can appreciate and be proud of.
If she really has been tested by God as she believes, she deserves an A++.
---
Source: The Detroit Free Press detailed Dunson's life story after learning she lived in the childhood home of the U.S. attorney. Original Author: Tresa Baldas
Please consider
making a donation
to
Sunny Skyz
and help our mission to make the world a better place.
Click Here For The Most Popular On Sunny Skyz
LIKE US ON FACEBOOK!