Mechanic driving Ghostbusters mobile offers free service to those in need
June 25, 2012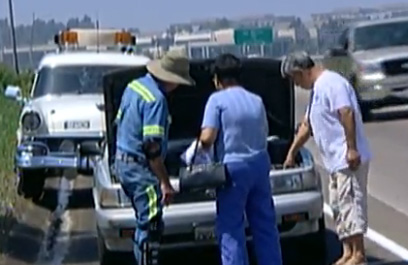 Thomas Weller of San Diego has been assisting people on the side of the road for over 40 years. A mechanic by trade, Weller offers his services 100% free of charge. He only asks that you pay it forward.
Weller cruises down the San Diego freeways in his Ghostbuster's inspired car looking for people stuck on the side of the road with car troubles. It could be changing a flat tire or fixing an overheated engine. As a mechanic, he can help with almost any roadside emergency.
It all started 40 years ago when Weller plowed his car into a snow bank in Illinois. Temperatures were brutally cold and someone was kind enough to pull over and offer assistance. Weller claims he would have froze if this person never stopped.
Since that very moment, Weller's life changed. He has helped over 5,000 people stuck on the side of the road. Each time he assists someone, he hands them a business card with the following message.
"Assisting you has been my pleasure. I ask for no payment other than for you to pass on the favor by helping someone in distress that you may encounter"
Just recently, Weller arrived to a scene after someone else had already stopped to help. In conversation, Weller asked the man why he stopped and was given a great response.
"Four months ago my wife had had a blow out on the freeway and somebody stopped to help her. By the way, thank you for doing that for my wife."
Weller continues to send a great message every chance he gets.
"There's too much anger and distrust and fear out there," Weller said. "I'd like the world to be a better place."
Remember to always offer your help when you see someone in distress. Help Weller and so many others continue to make this world a better place.
Please consider
making a donation
to
Sunny Skyz
and help our mission to make the world a better place.
Click Here For The Most Popular On Sunny Skyz
LIKE US ON FACEBOOK!