Ghost Boat
By Mary Nella McLaughlin • May 8, 2014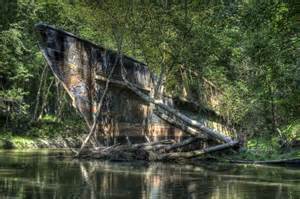 Buried deep in a natural harbor, lay an abandoned boat in a tributary of the Ohio River. It was discovered by three Kayakers silently gliding by when one of them spotted the watery treasure. They ventured over and discovered it was structurally sound enough to climb on board and investigate.
Nature had almost completely taken over the boat. It was abandoned, isolated, almost hidden from view, but it held out the possibilities of a great story.
Our three kayakers researched their find. They discovered that it was over one hundred years old, but at one time had been a productive and contributing member of society. After being a sight seeing boat in the New York Harbor at turn of the century, it had been commissioned to serve its country in both World War I and II. Thomas Edison used the boat for one of his experiments. Madonna even used it for a photo shoot in one of her videos. In the 1980s it was purchased by an individual, moved to his private land on the Ohio River, and left to the forces of nature.
I happened to find the old boat one day on the web when I was feeling just like an old ghost ship. I was thinking of my life, the family I had raised, and all the work I had done. I was wondering if my days of contributing were over and if I was dry-docked for good. The force of the river was carrying newer and sturdier boats along while I was a side-lined observer. These were my thoughts when I saw the photo of the old boat. I sat and stared at length, knowing somehow it held the answer.
Maybe it was okay to be like the old boat and allow nature to take its course. The ghost boat became my Psalm; through its unspoken message I felt understood, even appreciated.
I was the old ghost boat, past my prime, but no one could take my memories from me nor what they represented. I had lived a full life of family, friends, ministry, and global adventure. I, like the boat, am the sum total of all my experiences. Every storm was a blow to my hull and every tempest left its mark. One could easily see this had not been an idle life, nor an easy one, but rather all the markings of one who had lived to the fullest, suffered - yes, but endured.
Even before I read of its history, the boat revealed a certain elegance of stature, a mysterious noblesse that revealed a formidable existence. When I finally did read its whole story, I was not surprised. It was all in the photo - the grandness of its bow pointing towards a glorious past, the beautiful natural grave of lush, dense woods and water, framing its future.
It was, after all, a product of this world, and to the material world it would return. Soon the earth would reclaim that which lay in its embrace. And I too, will return to star dust and earth ashes from whence I came. Our destinies were intertwining from a shared and understood present. But oh what a glorious run!
"For every thing there is a season."
PREVIOUS STORY NEXT STORY SHARE YOUR STORY
Please consider
making a donation
to
Sunny Skyz
and help our mission to make the world a better place.