Strength From Pain , It's Possible
By Paulie O'Byrne • March 14, 2014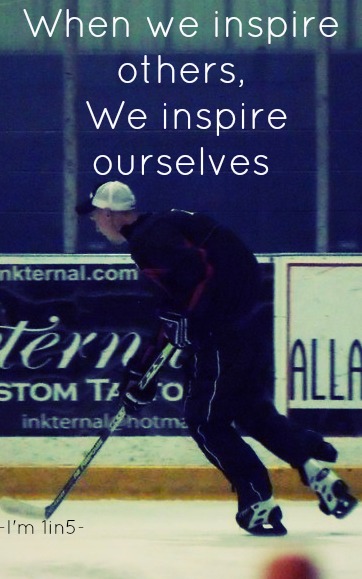 When I was a little boy, I dreamed big dreams, believed if I worked hard enough I could attain what my limits would allow me to do. Example: My older brother was an exceptional hockey player, I remember he score 40 goals in 18 games one season. I found that amazing , My brother kept a list of his goals on our fridge. Being 3 years younger than him , and not knowing about human development. I thought I should have 40 goals. What did I do ? I went to the driveway , set up my road hockey net , and made a commitment to myself to put 40 pucks in a row into the net. I went inside and made myself a list , Put it on the fridge and marked 40 goals next to my name. What that did was give me motivation to attain what I could mentally allow myself to. It was competition in our house. I grew up with a mom and a dad and a brother. We loved sport, from hockey to soccer , to skiing, to basketball, to baseball and so much more. On the outside of our front door we looked like a good family , and in some aspects we were. But on the inside of our front door, there was massive pressure both educationally, and in sport. there was hurt and pain with no vocabulary , When we were hurting we were taught to be strong and bury it deep. or at least that was the assumption as no one said any thing about talking about your pain. So as I went through elementary school and High school, I knew who I wanted to be and had worked hard to attain those goals . Dreams where attained , Goals were pursued with dedication and determination. When I graduated high school I received a bursary for being a driven student. So at the end of all that teenage stuff , I could allow myself to say "If I apply myself , I can achieve anything". Going back . Being a teenager that suppressed way too may emotions, it was not good for my future, and there were a lot of up's and downs. My family, or school didn't teach me about Addiction, or Mental illness, or Sexual assault . Going through the next 10 years of my life battling day in and day out with all of these. When I was 21 years old I was locked in my apartment by the president of the Delhi Minor Hockey Association, and Sexually Assaulted. In the 45 mins that this man Stole my dedication , my determination, my dreams , and goals. He put shame, guilt embarrassment and a whole ton of emotions on my shoulders , that no one had ever taught me to deal with. I instantly felt filthy , resulting in self abuse. Even burning myself would not get rid of the dirtiness I felt , I tried drinking in excess to at least get some sleep, and shut my brain off. I didn't know what was happening to me . I couldn't look anyone in the eye, my employer , my fiance, my self, without feeling like an inferior human. This shame had me arrested. I didn't know why I was making the decisions I was making , all to keep these emotions down like how I grew up. In 2 years after I was assaulted I had racked up a 280,000$ in Credit Card Fraud and Identity Theft . although that's a lot of money , what I had to show from all that money, was terrible self-worth, No confidence, No friends, No teeth, an awful addiction to Crystal Meth ,and Cocaine, and no cares for anyone, including, my son Nathan, who was born a year after I was assaulted. I have always beat myself up about that since. What I know now , Is I did what I did because I had no other way of coping with life on life's terms. I did what I could with What I had.I wouldn't advise anyone to take the quarter million dollar crystal meth recovery treatment route. I had a lot of work to do. Hard work!!!! By 2010 I'd had 3 suicide attempts , gone to 6 drug and alcohol treatment centers, 7 detox's and saw approximately 65 doctors or counselors. The issue was I would NOT talk about my past , and would not allow myself to rid that shame and guilt and embarrassment. I now know that was the combination to the lock that had kept me sick for so long. Living a sober life now I have a lot of recognition in that I need mental health counselling, I need to stay connected to those who loved me when I could not love myself, I need to support another human who has felt the despair of staying silent, and give them hope and strength. Today I shed the guilt and shame of what has gone on in my life, I'm not the owner of it any more. The wreckage of my past is being cleared. If you think of a huge pile of gravel as all your "problems" sometimes all we have is a teaspoon to clear that away, but its better than building your pile bigger. Someday that teaspoon will turn into a tablespoon, and then a shovel, and eventually a bulldozer. Its a process, and its at the speed of life, not at your speed that you desire. Today I'm sober, Today I love myself, Today I respect myself, Today I'm proud of myself , and that's a hell of a long way from where I used to be. I will be successful not because I'm destined to, but because I'm determined to.
PREVIOUS STORY NEXT STORY SHARE YOUR STORY
Please consider
making a donation
to
Sunny Skyz
and help our mission to make the world a better place.
Click Here For The Most Popular On Sunny Skyz
LIKE US ON FACEBOOK!