God's Love In Everything
By Joseph J. Mazzella • October 4, 2023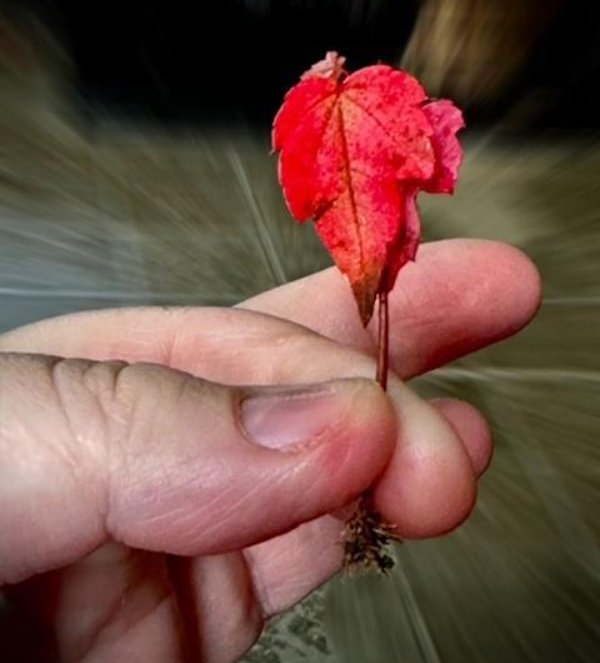 Summer was winding down and there was a hint of Autumn in the air. The temperatures were cooler, the air felt drier, and I could already see the first yellow and red leaves on the trees. I had just finished taking my dogs for their morning walk when I noticed something. On my back deck porch was a Maple tree stem. It was growing out of a tiny clump of dirt that we had tracked up on the porch. Its base hadn't even turned to wood yet, but it had three, lovely, red leaves growing out of it. I smiled at this hardy little guy getting so much growth and life out of so little soil. I knew, however, that it couldn't grow much larger where it was. I bent down and gently scooped it out of the soil. I took it inside to show my daughter and have her take a picture of it. Then I walked it out to the edge of the woods around the meadow behind my house.
I walked into the forest and looked for a spot where the sunlight was still breaking through the giant, growing trees. I found one and dug out a little patch of the soil. I planted my little Maple tree in it and patted the dirt down with a smile. I prayed he would make it to 50 feet high one day. I also took a moment to look at all the life around me. There were trees, bushes, weeds, flowers, butterflies, bees, spiders, and birds all so full of life. I could feel too the Love of our Creator in everyone of them. I thanked God for letting me a part of it all. And I felt so happy that my efforts, however small, were helping it along.
Nature can teach us so much about life. There is so much variety, complexity, growth, and beauty in it. You can't be out in it for long without being filled with wonder and awe. You can't be out in it for long without feeling the Love of the One who Created it. That Love flows through us too. Welcome it into your heart. Take it into your soul. And share it with the world. Help God to make this world a better place through your life and your love.
PREVIOUS STORY NEXT STORY SHARE YOUR STORY
Please consider
making a donation
to
Sunny Skyz
and help our mission to make the world a better place.