Potatoes
By Joseph J. Mazzella • August 23, 2023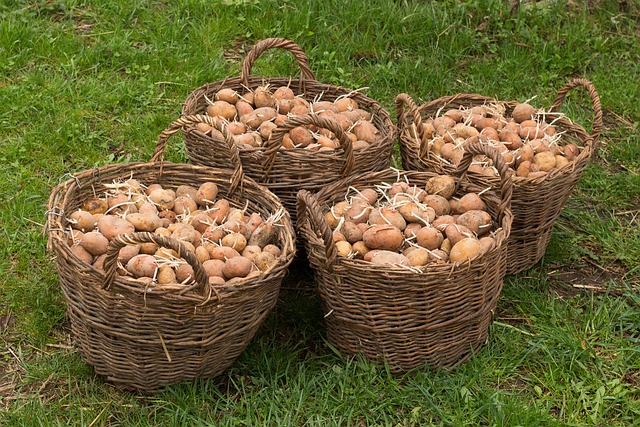 When I was a boy growing up we had a potato garden half the size of a football field. I remember planting it was a family affair. First Dad would use a push tiller to break up the soil. Then Mom would go down the rows dropping seed potatoes into the freshly turned earth. Next would be me dropping a handful of fertilizer in between each of the potatoes. Lastly my brothers would hoe dirt back over the potatoes to let them grow all Summer. When harvest time came I would be astounded at how much the potatoes had grown. They would fill sack after sack and would feed us all the year through.
Mom and Nana had to be creative too with so many potatoes to cook. Mom would make mashed potatoes one day and then use the leftovers to make potato cakes the next. Nana would slow cook them on Sundays in her special red sauce to serve with spaghetti and meatballs. She would also bake them in the oven with chicken, deliciously seasoned with rosemary and garlic.
My daughter tried to recreate Nana's oven chicken and potatoes just this last Sunday. When it was cooking the smells were heavenly and when I tasted it I was filled with loving memories from my childhood. The happiest part of it all, though, wasn't those old memories but creating a brand new one with my daughter and sons. What a joyous and loving dinner it was.
They say that potatoes are one of nature's most perfect foods. They have so many vitamins and nutrients in them that give us energy and vitality. The ancient Incas even built an entire civilization along the cold, desolate Andes mountain range just because they knew how to plant, harvest and store potatoes. I thank God for these little spuds. They nourish our bodies just as Love nourishes our souls. They keep us healthy and strong so we can share that Love with others. And they help us to make delicious dinners and loving memories.
PREVIOUS STORY NEXT STORY SHARE YOUR STORY
Please consider
making a donation
to
Sunny Skyz
and help our mission to make the world a better place.