Two Pills
By Joseph J. Mazzella • February 17, 2023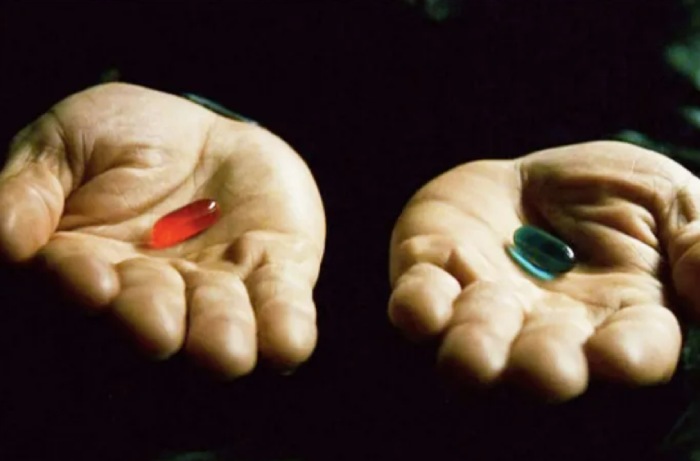 I don't spend very much time on the internet these days. Oh, I check out what my family and friends are doing on Facebook, enjoy a funny video or two, and take in an inspirational post. I try to stay away, however, from the hateful, angry talk, the politics, the arguments, the bullying, the lies, the conspiracy theories that are everywhere online. They can eat away at your soul.
I did see one interesting post the other day, though. It was like a moment from a science fiction movie. Under the question: "What would you do?" you saw two hands. One was holding a red pill and one was holding a blue pill. If you took the red pill you could restart your life at 6 years of age with all the knowledge you have now. If you took the blue pill you got $10 million dollars in cash. It took me about half a second to decide to take the red pill.
If I were 6 years old again, knowing what I know now, I would run across our old swinging bridge after school, burst through the front door, hug my Mom and tell her just how much I love her. Then I would do the same with my Nana. I would even risk embarrassing my Dad by giving him a huge hug when he got home from work. They are all in Heaven now and I still miss them every single day. I'd try not to change any of my life's choices. I would still want my life to turn out like it is today. The only change I would make would be how I felt inside. To relive my life with a heart full of thankfulness, a soul overflowing with love, to be free from fear and full of joy, to be full of wisdom and appreciation would have made everyday of that life a blessing for me and a gift for Our Father in Heaven.
Of course there is no magic pill that will let me relive the last 50 years of my life, so I will do my best to instead live my remaining time here with all the love, laughter, goodness, gratitude, joy, kindness, and light I can. After all, that 6 year old still lives inside of me and I do have now all the knowledge I have gained over this lifetime.
May you always live your life with the heart of a child and the knowledge of the wise. May you share your love, your learning, your kindness, and your joy with everyone you meet. May you embrace each day as a gift from God and live it like your gift to God.
PREVIOUS STORY NEXT STORY SHARE YOUR STORY
Please consider
making a donation
to
Sunny Skyz
and help our mission to make the world a better place.