Anniversary Dinner Kindness
By Julie • February 18, 2022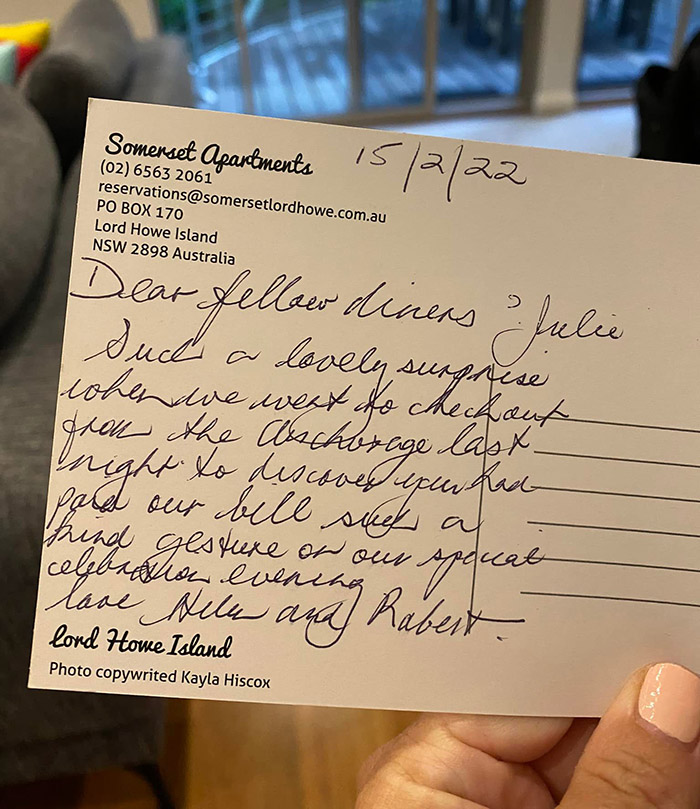 My husband and I are lucky enough to have just returned from Lord Howe Island after celebrating our 20th wedding anniversary.
One evening we were eating dinner at one of the restaurants on the island, and a lovely elderly couple were sitting next to us. The lady was very friendly and we had a brief chat, and she told me they were celebrating their 60th(!!!) wedding anniversary, and had honeymooned on the island 60 years ago. They reminded me a bit of my own parents. She was bright and bubbly, appeared young for her age, and seemed to speak for the both of them. Her lovely husband appeared to be showing his age, didn't say much, and took a long time to eat his meal. Having lost my beautiful Dad to early onset dementia a few years ago, I couldn't help but wonder if maybe he was suffering.
Anyway, something about this lovely couple spoke to me, and we decided that we'd like to (anonymously) pay for their celebratory meal, so I snuck up to the counter and paid. The wait staff were thrilled to bits and told me I'd made their day.
They then informed me that not only was it their 60th anniversary, but it also happened to be the lady's birthday! Her name was apparently Helen.
Later that night when we were back in our room it somehow dawned on me that I had seen a comment from a lady named Helen on Lord Howe Island's Facebook page earlier on! I quickly went onto the Facebook page, and sure enough, there was Helen's comment from 2 weeks ago saying how much she was looking forward to celebrating her 60th anniversary on the island! I hadn't put two and two together when we were at dinner, but how crazy that I had seen her comment previously, and just so happened to be seated next to her at dinner!
I really felt like there was a higher power at work somehow.
Then just incase I wasn't already blown away enough, my husband played a random Spotify playlist on the Bluetooth speaker in our room when we got back, and 'Happy birthday Helen' played!!!
The next day all the staff kept telling us how happy Helen was, and she left a lovely note for us with the restaurant staff. I was so thrilled that we were able to make their evening just a little bit more special.
PREVIOUS STORY NEXT STORY SHARE YOUR STORY
Please consider
making a donation
to
Sunny Skyz
and help our mission to make the world a better place.