Nursing Home Surprise
By Amy • December 31, 2021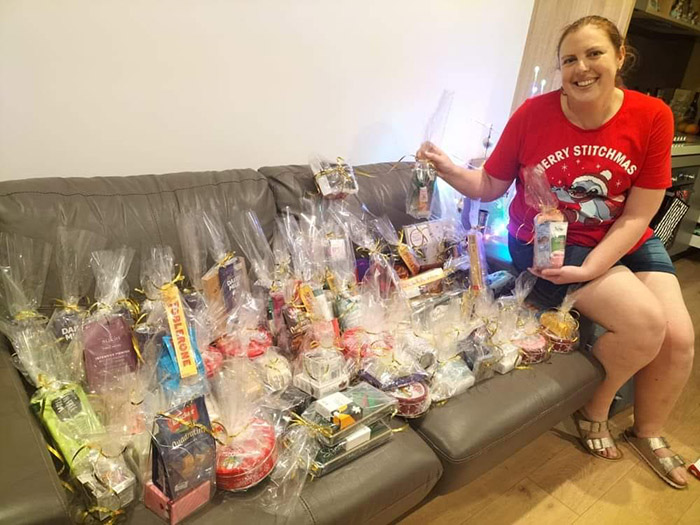 My partner and I wanted to spread some joy so we decided to organise gifts for the residents of a local nursing home. I posted on Facebook about our plans and my aunty, and two of my friends sent me money to go towards gifts. Then one of the ladies who works at a different branch of the store I work sent me over a huge box of chocolates, biscuits and sweets to add to the haul of presents. We purchased chocolates, soaps, hand creams, Christmas puddings, sweets, biscuits, etc.
A lady who runs an op shop here in Brisbane and does a lot of great work for the community gave us a huge supply of cellophane to wrap up the gifts so they looked pretty. My partner spent a full day wrapping them as I was at work (and never wanted to lay eyes on cellophane again!!) but they looked great!
I posted on a local Facebook group as we don't have a car and I realised we were going to have difficulty taking these on the bus and a lovely guy named James sent me a message offering to drive us. Another lady sent a message saying she had some small gifts to drop over so she came by with some more presents which was a big help as we wanted to make sure there was enough for the 70+ residents so that no one missed out!
So on the 22nd of December we were all ready to go and be Santa's elves! James picked up my partner and me and we headed to the nursing home with 74 gifts plus a few extras for good measure! After signing in, masking and gowning up and having our temperature checked we were in and ready to spread the Christmas cheer.
I was a little nervous as it was my first time in a nursing home and I'm more of an introvert where as my partner has no troubles talking to people whatsoever. But once the nursing manager began taking us round to everyone's rooms and I saw the smiles and surprise and happiness on their faces I was so happy to be there and it gave me so much joy. We went to everyone's rooms and wished them a very happy Christmas and gave them each a small gift of soaps, hand creams, biscuits, chocolates, etc. It was a wonderful experience and I highly recommend that people do something like this as it will bring you so much fulfilment and happiness.
I'm already planning a visit for Easter as the Easter bunny might be stopping by!
PREVIOUS STORY NEXT STORY SHARE YOUR STORY
Please consider
making a donation
to
Sunny Skyz
and help our mission to make the world a better place.