Thank You For Protecting My Freedom
By Lisa • September 29, 2021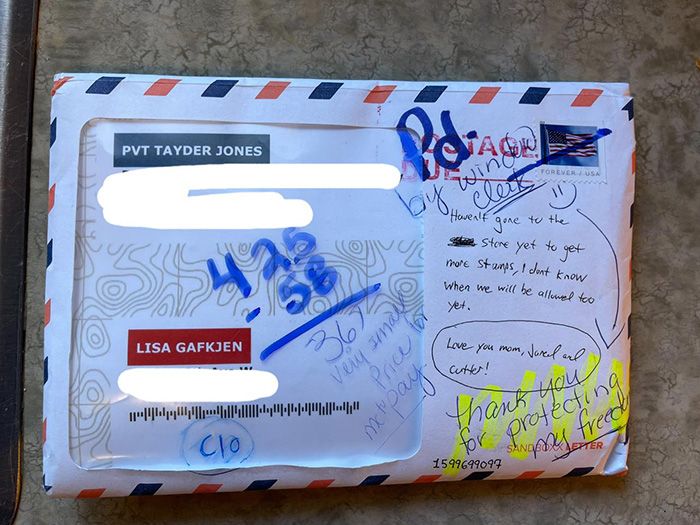 Today, we received thee most amazing envelope in the mail. It was an envelope full of letters from Tayder! He has been writing a little each night and mailed them out as a group to each of us. The trainees haven't been able to get to the store, so he was running low on stamps.
I noticed quite a bit of writing on the outside of the envelope, and I didn't put two and two together right away, BUT….
It says that the envelope Tayder mailed home was short on postage! It cost $4.25 and he had only put one stamp on there, not realizing that it was only worth $0.58 😞 so it was stamped "Postage Due".
Look closely at this envelope and what it says:
"Pd by window clerk:)"
"$4.25 - $0.58 = $3.67 very small price for me to pay"
"Thank you for protecting my freedom"
If that doesn't hit you straight in the feelers, are you even American?!?
I can not thank this postal worker enough! Your kindness means the world to me! Thank you, Thank you, thank you!!! You literally brought me to tears.
PREVIOUS STORY NEXT STORY SHARE YOUR STORY
Please consider
making a donation
to
Sunny Skyz
and help our mission to make the world a better place.