I Rescued A Stray Cat In My Neighborhood
By A Friend • April 20, 2021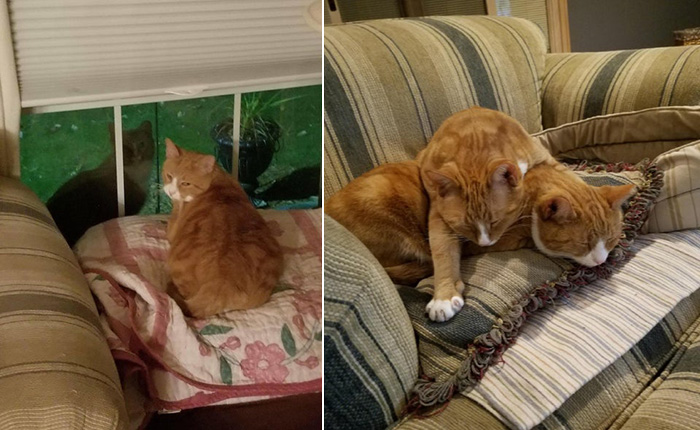 Here's a feel good story that will brighten your day.
"I rescued a stray cat in my neighborhood. At night his brother would come visit him. I really had no other options."
That's what the person wrote, along with the photo of the two cats.
And this is what someone shared in the comments of the same post.
"When I was 16 I worked at a pizza joint. One day in the fall I go out back to break up boxes and flatten them for recycling. It's raining and like 40 degrees out. When I open the door there is a 4-5 week old kitten in a puddle crying. I picked him up dried him off and was feeding him water and pizza toppings in the kitchen. My boss freaked out about a stray cat in the kitchen so I got some towels and a box and made him a little shelter and put him on the floor of my car while I worked ( it was safe in the car the temp outside was cold). I go outside in an hour to check on him and there is another kitten scratching my car door to get to her brother. So I scooped her up to. I had to sneak them into my house cuz my mother did not want anymore pets especially a cat. Our cat had died earlier that year and she was adamant she was gonna only have dogs and was done with cat litter. I hid these kittens in my closet for 4 days until she caught me taking a pitcher of water into my room, followed me and saw me coming out of the closet with it. Certain I was growing weed in the closet she demanded to know what I was doing and what was in the closet. She was happy it wasn't weed but mad cuz she didn't want any more cats. I told her I didn't have a choice. As a ploy that worked like a charm I told her we could just keep the boy and find a home for the girl. She yelled at me that we can't separate them. I knew I had her right then. My family had Penny and Rizzo for the next 15 years."
PREVIOUS STORY NEXT STORY SHARE YOUR STORY
Please consider
making a donation
to
Sunny Skyz
and help our mission to make the world a better place.