On The Receiving End Of The Kindness Of Strangers
By Darlene • March 15, 2021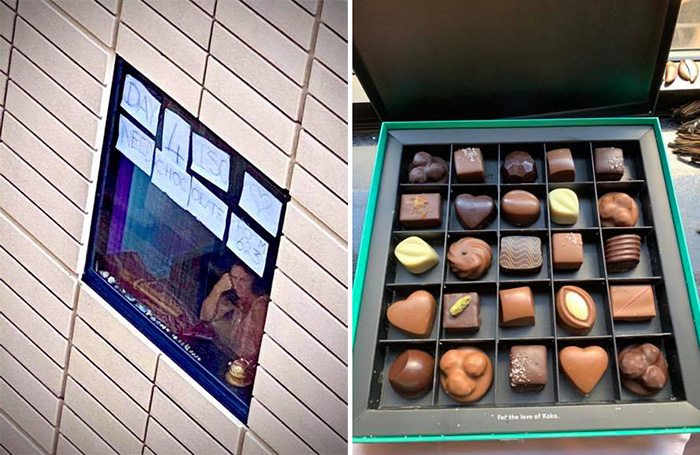 I'm on day four of mandatory hotel isolation after returning back to Australia from a trip to Hawaii, where I was studying the new advanced techniques of building low cost eco friendly housing.
I was on the phone to a good friend and I was joking with her about an idea I had of sticking a sign on my hotel window that was facing some offices across the road. She thought it was a great idea and we laughed about the many things I could write, eventually with her encouragement ( after all what are friends for ? 🤣)
I wrote on some papers: "Day 4 ISO need chocolate 💖 Room 623" and then stuck them up with chewing gum ( old Macgyver trick).
We were laughing uproariously the whole time. A couple of people in the office windows smiled and some guys working on the rooftop laughed and waved.
Nekminut my room phone rang .. a ladies voice asked if I was the one with the day 4 ISO sign on the window ... I first thought it was management about to tell me to take them down 😐 I hesitantly admitted it was my window , with which the wife of one of the rooftop workers who had rang the hotel reception asking to get put through to my room, then asked what was my preferred chocolates. I was in shocked surprise and didn't exactly specify, after all is there such thing as bad chocolate 😂 we chatted and joked for awhile and she said expect a Uber delivery soon. Wow she made my day.
Within an hour the most delectable chocolates I've ever seen or tasted arrived with a knock at my door. I've savoured one of them and will eat 2 a day in order for them to last until I'm released.
When I did a fb live video of me opening them, there was a lady waving to me from the office across the way .. lo n behold I wasn't aware that she was waiting for a break to deliver a packet of Timtams to reception.
Being in hotel isolation I don't get to leave my room, the window doesn't open and there's only a few short minutes when the sun can shine in, though the kindness of these strangers brightened my day beyond any amount of sunshine possible.
PREVIOUS STORY NEXT STORY SHARE YOUR STORY
Please consider
making a donation
to
Sunny Skyz
and help our mission to make the world a better place.