Broken Down In Vietnam
By Sincer77 • July 23, 2019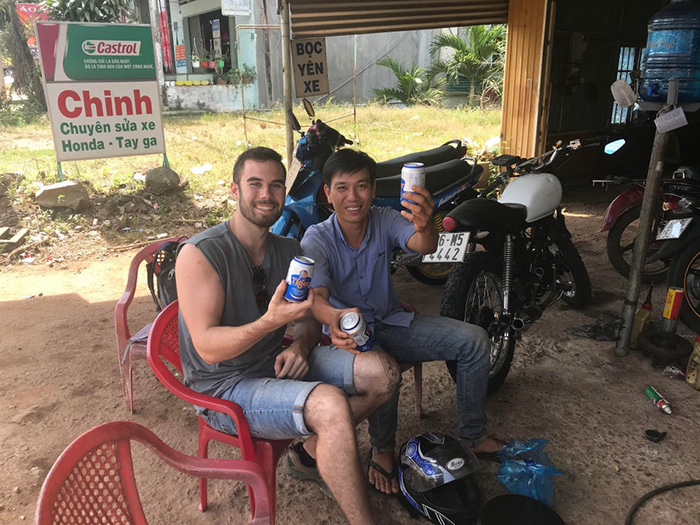 My brother and I were travelling Vietnam by motorbike. My brothers bike broke down and this man pushed it 5km (with his scooter), told the mechanic we needed help and then bought us beer while the mechanic fixed it. We chatted through Google translate the entire time. Mr Tran you are a Bro!
Some more info: We were in the middle of nowhere and my brothers motorbike began having issues (quitting frequently and having trouble starting). I went ahead to the nearest house with people around and I met this fellow. I translated on my phone that my brothers motorbike had broken and we needed a mechanic. He got on his scooter and followed me back down the road to my brothers bike. He pulled up behind my brothers bike and stretched out his leg and began pushing my brothers bike from the foot peg while still riding his. We went somewhere around 5km down the road to a mechanic shop. He spoke in Vietnamese to the mechanic and a few moments later my brothers carb was in pieces being fixed. I was using my phone to translate, thanking him so much for the help and telling him we are from Canada. He explained to me that he had left his phone at home but wanted a picture with us. We took some pics using my phone and I added him as a contact. He translated that he would be back in a moment and jumped on his scooter. He returned with cold tigers for each of us. We offered many times to pay him for both his help and beer but he refused. If someone here knows a way to get this picture to him (I have his cell #) that would be great. My texts fail to send when I try but I know he would love to have these pictures. Again, Mr. Tran you are a great human.
PREVIOUS STORY NEXT STORY SHARE YOUR STORY
Please consider
making a donation
to
Sunny Skyz
and help our mission to make the world a better place.