Running Into His Arms
By Joseph J. Mazzella • September 12, 2013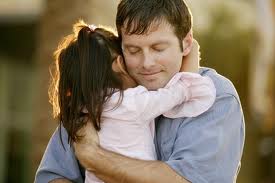 This life is so full of beautiful moments. All you have to do is open your eyes and your heart to see them. I saw one just the other day. The local elementary school had just let out and I found myself behind a school bus as I was driving home. The bus stopped by a house sitting on top of a hill. A little girl no more than 7 years old hopped down the bus steps and started running up the driveway toward the house. The smile on her face was contagious. Her long hair was bouncing off her shoulders and her pink backpack was trailing behind her as she ran. I looked up the hill to see where she was going and saw her Dad waiting on her. As she got closer and closer her Dad smiled and knelt down to greet her. The second she got to him he wrapped his powerful arms around her and gave her a huge hug.
My eyes watered a bit as I watched this scene and remembered all the times my own children had ran into my arms with smiling faces and loving hearts. Every single hug from them was a fountain of youth and a treasure of joy.
My lovely trip down memory lane was interrupted when I heard the car behind me honk its horn. I saw the school bus quickly pulling away and started to follow it again. I did so, however, with a fuller heart and lighter spirit than I had before. I took that beautiful moment and stored it safely in my soul where I knew it would remain forever.
One day we all will leave this school of learning and love and finally get to go home again. I know that when it is my time that I will sprint from that bus and right into my Heavenly Father's arms. I know that my smile will be bright and my heart will be light. Enjoy your day here at school then. Teach, love, and learn. But know that one day you will be going home to where the hugs are eternal and the love never ends.
PREVIOUS STORY NEXT STORY SHARE YOUR STORY
Please consider
making a donation
to
Sunny Skyz
and help our mission to make the world a better place.
Click Here For The Most Popular On Sunny Skyz
LIKE US ON FACEBOOK!