Miami Marathon Dance For ALS
By Yossi Berkowitz • February 24, 2016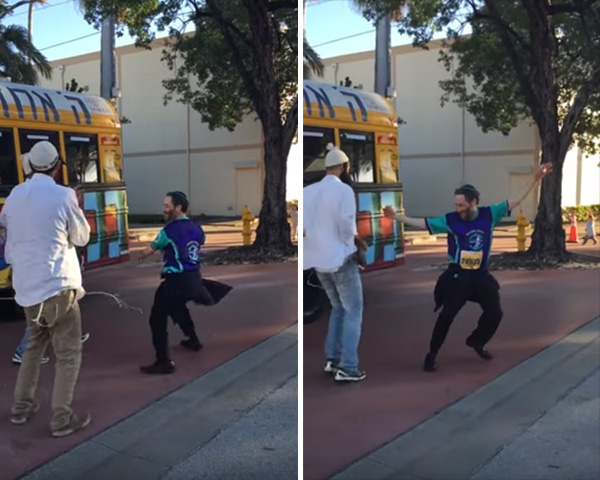 I live in Brooklyn in an apartment building. Everything was nice and peaceful until a newlywed couple moved into the apartment adjacent to ours. Now don't get me wrong, they are both wonderful people, but they happen to head the local chapter of an international organization called Friendship Circle, an organization that assist adults and children with special needs and their families.
Being that both my wife and I have close family members with special needs, this organization is very close to our hearts, so when my wife heard that they are starting a fundraising campaign, which consisted of joining Team Friendships Miami marathon run, which involved raising a certain amount of money for Friendship Circle and training for the marathon.
Now when my wife gets inspired she acts on it, when I get it inspired I get stuck on inspired, so before I knew what hit me she was dragging me out to Prospect Park to train with her. Well that lasted about two times. I simply could not keep up with her (and I am a little lazy too). In my mind I was not planning to run the marathon, I was just going along because I'm not that fond of sleeping in the doghouse.
The night before the marathon I decided to run, after hearing some inspirational speeches by the benefactors of Friendship Circle, however I had no training and no running shoes only a black pair of dress shoes. People thought I'm nuts. They told me I will get huge blisters and never finish the marathon. Well, I did finish the marathon with no blisters, ironically my wife with her running shoes did get a blister.
Along the way there were cheering squads. At the seven and a half mile mark, I pulled over to one such cheering squad and started to dance. The dance I used was inspired and taught to me by my cousin Yitzy Hurwitz who is battling ALS - he is a father of seven. The financial and emotional toll ALS is having on him, his wife, and children is way beyond anything I can fathom, and yet despite everything Yitzy and his wife are one of the most strongest people I have ever met. They are a true source of inspiration to anyone that meets them.
Allison stone, whom I never met, captured the dance and posted it on Facebook - it has 28,000 views. People keep on telling me how much joy the video brings them, I am not sure why but maybe you will have the answer.
PREVIOUS STORY NEXT STORY SHARE YOUR STORY
Please consider
making a donation
to
Sunny Skyz
and help our mission to make the world a better place.