Warmth On A Winter's Day
By Joseph J. Mazzella • January 28, 2013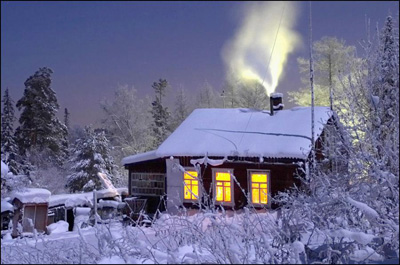 It was the start of a typical Winter's day here in the mountains of my home. Outside the grass was frosted and the ground crunched under my feet. The sun was rising but it did nothing to ease the cold. I could feel the bitter air seeping into my bones. My own breath froze in my nose while I walked my dogs. Still, I stopped to look at the magnificent pinks and purples in the heavens. It was so glorious. I gave thanks to God for another beautiful if freezing day. After a while even my dogs seemed to feel the chill. They quickly pulled me back towards the house and once inside wolfed down their breakfast and curled up in the sunbeams coming through the windows for their morning nap. I smiled as I watched them and then made a hearty bowl of oatmeal for myself.
After breakfast I pulled on my favorite sweater and slowly sipped a cup of coffee. I heard the gentle thumping noise as the heater kicked on again and warm air started to flow from the floor vents. I laughed too as I saw my youngest son hurry over to stand on one of the vents and warm his feet. In spite of the biting cold on this frozen Winter's day, I felt a warmth in my soul.
I looked out my window and once more gave thanks to God for the day. I was grateful that while it was Winter outside my window, it was no longer Winter inside my heart. For too many long years it had felt like Winter there. For too many years the world had seemed cold and harsh. For too many years I had foolishly stayed away from the warmth of God's love.
On this day, however, I felt the fire of His love heating my heart and lighting my soul. On this day I felt a Springtime of joy growing inside of me. I knew that God was with me and within me and that my own love would only grow warmer as well. Don't let your own heart stay in Winter. Welcome God's love and light into it today. Then go out and share your Spring with the world
PREVIOUS STORY NEXT STORY SHARE YOUR STORY
Please consider
making a donation
to
Sunny Skyz
and help our mission to make the world a better place.