A Natural Disaster That Taught A Valuable Life Lesson
By Dam Dikkari Doo • December 26, 2014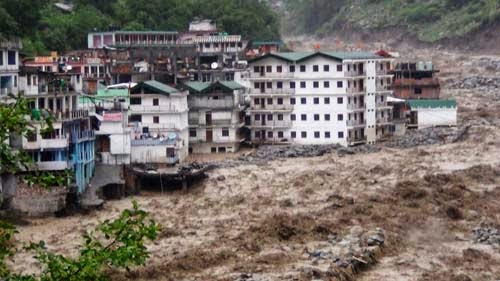 An ardent follower of Hindu mythology, I always wanted to explore the northern part of India where much of the activity happened during previous eras according to the Hindu scriptures. So, one day while I was researching for feasible options in the Internet, I came across this club which is conducting tours for the pilgrims to visit Kedarnath temple located in Uttarakhand. For many, visiting Kedarnath is a journey of a lifetime. I too heard many interesting stories of how the temple was built by Pandavas and is one of the 12 Jyothirlingas, the holiest Hindu shrines of Shiva. Besides, Uttarakhand is known as the Land of Gods. So, I got excited and immediately called the concerned person at the club which organizes these tours. The person by name Rishi answered the call and said that there is one slot available and if interested I had to register myself for the trip and submit some proofs at their office along with the money. I immediately jumped at this opportunity and reached their office in Banjara Hills that very day along with my identity proofs. I met Rishi at their office, and after the initial conversation he came across to me as a very friendly and warm person. He said that he has been conducting these tours for the last ten years and he will be our guide in this journey. Upon asking how many people will be accompanying us on this trip he said 15, along with him. He handed me an itinerary, which also listed out the things that I needed to carry on this trip such as rugs, torch light, rope etc. Rishi also requested me to undergo a series of medical tests (mandatory for everyone) before embarking on the trip, which I obliged. The date for the trip has been fixed as 12th June and all the bookings were made.
The day has finally arrived. My excitement level is such that, I couldn't sleep last night. I told my parent's that I was going to Bangalore for a Job interview and would stay there for a few days, to avoid further arguments. I reached the railway station on time along with my backpack. I waved to Rishi from a distance. By the time I reached the railway station, most people embarking on this trip came along with their respective families, and are waiting for the train. The train is scheduled to leave at 5PM for Delhi from Secunderabad. Rishi informed me that a certain Gautam from the enrolled list has cancelled his trip owing to health problems, so we are down to 14. Even then 14 is a good number I thought, and was looking for this journey to get started. At 26, I was the youngest one among our group which consisted people mostly from their mid 30s, leaving alone an elderly couple. Rishi was 29 years old, so it was easy for me to connect to him. After exchanging the initial pleasantries with all the members of the group we boarded the train. As this was a 10 day long trip, I tried to converse with a few members from the group so that I wouldn't get bored. But, most of them kept to themselves either playing with their smart phones or watching movies on their laptops. I wondered what purpose a laptop will serve on this holy trip. Soon, Rishi and I became friends conversing on variety of topics including sports, politics, cars etc. Between all this, I saw that ticket collector was having a tiff with an elderly man over his confirmation of berth. I reached out to the elderly man and offered him my upper berth, and said I will sit through the night. Initially he was reluctant but obliged and thanked me for the generosity. On seeing this Rishi insisted on sharing his berth, but I refused saying that I am a night owl and will sleep during the morning time. As this was my first trip to the North, the whole next day I sat by the window of the train checking out various locales on the way. After making various pit stops, the train reached Delhi by 10PM next day. We had to catch another train to Rishkesh, which was scheduled at 3AM. So we waited in the lounge till the train arrived. The train was 2 hours late and reached the station at 5AM. We boarded the train and it was another 8 hour ride to Rishkesh. Even though I was tired and did not have sleep for three straight days, I occupied the window seat once again resisting any further sleep till we reached Rishkesh. We reached Rishkesh only by 2PM. On reaching Rishkesh, Rishi advised rest to all the members of the group before the final sojourn. The hotel bookings were already made so everyone checked into their respected rooms. I shared mine with Rishi. Rishi asked me whether I would like to check out interesting things in Rishikesh. Even though very tired, I did not want to miss out on this opportunity. As he has been on this trips before he knows everything about the place. Him being a religious person, we checked out few temples of importance and shopped till the wee hours. He bought some toys for his daughter. We had dinner at a local restaurant and reached the hotel only by 11PM. With him in conversation, I never got to know the time. He has got so much knowledge about these places. He asked me to get some sleep as I seemed very tired, and also had an early ride to Kedarnath. Rishi warned everyone in advance, that the bus ride to Kedarnath is a bit bumpy due to the bad condition of the roads. The bus started at 5AM in the morning. I realized that the condition of the roads were far worse than mentioned, as the 217KM stretch took us close to 10hrs to reach (which in normal cases accounts for 4hrs). So we finally made the land fall at Kedarnath on 15th June 2013 3PM IST. From there it is a 16KM trek, as there is no other way to reach to the main temple. Rishi insisted on completing the trek that very day to meet the deadlines. Most of them nodded in agreement. The elderly couple who are a part of our group opted for horses to complete the trek. The trek to the temple was the most beautiful thing I have ever come across in my life. The view, the valley everything seemed so beautiful and perfect. We reached the temple by 4.30PM and completed darshan in about half an hour. As it was closing the rush of devotees thronging the temple was pretty less. The meditative posture of lord Shiva just outside the temple was a treat for the eyes. Meanwhile Rishi informed the group that the Hotel booking at the Kedarnath has been done, which is a 6KM trek from the backside of the temple. The Hotel being an Andhra one everyone who are a part of group obliged, as they get to gorge on some homemade food. It's been three days and the food we had so far during the trip either is too salty or too sour. The elderly couple who are accompanying us till then requested to stay back and has their own reasons for the same. Upon probing Rishi, he said that the couple has known connections around these areas and wanted to stay there for a while.
The hill backside of the temple, which Rishi mentioned was more or less a deserted one. Rishi said that many people travelling don't know about this route, or even though they know they avoid this route as it is a bit arduous task to climb up the hill which is the tallest one among here. He further mentioned that, upon climbing the hill the scenic beauty we get to witness will be breathless. The route uphill was a bit strenuous, but Rishi with all his experience made this task look pretty easy for everyone. He was constantly talking with everyone lifting their spirits up and promised a perfect location to take photographs. Finally we made the hilltop and as promised the view from there was nothing but breathtaking. The Mandakini River flowing through these hills was such a beautiful sight. Almost everyone started taking photographs. Me being a nostalgic person closed my eyes and started looking back at all those places during the trek from Hrishikesh. I remembered how I was excited to go on this trip, and how the most important part of it has been covered without major hiccups. But I was wrong. The nature has completely different plans in store for us. It's been drizzling all the while from the time we reached Kedarnath, which made the surroundings look even more beautiful. As soon as we reached the river everyone playfully jumped into river which is flowing between the hills. The river water was only knee deep at these parts informed Rishi. The river was about 15 feet wide. Other than our group, there were a couple of other people a lady and man, who were taking videos at the very same place. I introduced myself to them and asked whether they are residents of these areas. They said they are a couple coming from Kerala and are a part of TV crew, and are here to shoot the surrounding areas. They even said that the whole of TV crew split into various groups to shoot as many videos as possible. As I stood at this end of the river, I watched Rishi deeply engrossed in his thoughts sitting by the river at the other end. I sensed he was missing his one year daughter very much. I was standing on one of the rocks in the river and taking photographs of the TV crew people upon their request. The other people of the group stayed together at one end. Suddenly the water current in the river grew. The people shouting jumped to the shore at their end. Nobody knew what was happening. As the shore at my end is a bit steep, I tried to reach the other end with the couple holding our hands together. The water current grew even stronger making it nearly impossible to walk. A concerned Rishi, at the other end shouted to go back. We too thought it was the only option. I along with Rakesh (the name of the TV crew person) helped his wife Mallika reach this part of the shore. Rakesh slighted drifted off the path due to the heavy current and fell upon me and my legs hit a rock just beside it. I was in so much pain. Nevertheless, we made the shore as Rakesh and Mallika pulled me harder. As I was carrying the bag pack, I became very hard for them to pull me off the river. I thanked god as soon as I reached the shore. Rishi shouted from the other end asking whether I was fine. I nodded in agreement, but my leg was bleeding and was in terrible pain. Suddenly I felt that the river parted us. I badly wanted to be on the other end as Rishi had all the medicinal supplies and the first aid kit along with him. Meanwhile, Mallika seemed very panic stricken as the water level rose and started crying. Rakesh tried to console her in vain. Suddenly there was water all around us and it started to rain manifolds making the situation look even worse. I along with Mallika and Rakesh seemed to be on the tiniest island, while the 11 others also on an island but a bigger one. My end resembled a small ant hill, with a tree. The matter of fact is, it is too big to be called as plant and too small to be called as a tree. No matter what I will keep referring it as a tree from here on. Who would have thought it would be my only friend in coming days. All we could see was water, water and more water. The currents were so strong on that day, that it moved the bigger rocks on its way. Rishi from the other end shouted to stay put and it would be a matter of time before a help comes our way. I serious doubted his optimism. Everyone from the other end shouted in vain for help. There was no signal on the mobile phones to call for help. The light started to fade and soon it was dark. All we could see was fire which they lit at the other end. I was in excoriating pain and was worn out completely. Not having sleep for four continuous days started to take effect. Our end was like a slope with water almost touching our feet. With eventual screams for help I fell into a deep sleep under that small tree.
I woke up to the loud screams of Mallika. She screamed "look there's no one on the other side the water current might have gotten them while we were in sleepŁ." By the time I woke it was nearly 8AM in the morning and there was not a single trace of a person on the other side. It was rude shock. The rain just got heavier, while the water level started to rise significantly. I couldn't trace a single thing on the other end. The entire land got submerged. I assumed that the big rock standing between the water current and the slope we are on, might have changed the direction of the water leaving us. Still the water level significantly rose from the last night hitting our toes in a sitting position. My mind was blank. I could not think anything else other than the people on the other side. Especially Rishi, we forged a special bond of friendship during the tour. I couldn't stop thinking about his daughter and his immediate family. Oh my god, what seemed like a memorable trip so far soon turned out to be a death trap. All of a sudden, Rakesh started laughing loudly like a mad person. I wanted to hit him so hard at that point of time, instead of mourning and feeling bad for the lost lives he was laughing. He started yelling "Look life is a joke, laugh through it other than that we could do nothing at this point of timeŁ." Mallika seemed to have gotten into a depression. She went completely numb visibly in a state of shock and was not saying a single word all of a sudden. Rakesh tried to console her saying that they might have got out of that water reached the shore and went looking out for help for us. Suddenly, my thoughts focused back home. I mean, my parents don't even know that I made this trip. I came to grips with my pain and sat back leaning on to the tree. There was a dead silence. Nobody was saying a word. Rakesh offered me some biscuits to eat which I gladly accepted. We had no food supplements with us; no water; the biscuits we ate were the last meal. Rakesh pulled out his water bottle and kept it out in the open hoping that the rain water would fill it up. We sat through the day saying nothing and every one engrossed in their own thoughts. Even though the rains slowed down a bit by the evening, there was no hope in corner as the water currents in the river remained the same. The temperatures dropped staggeringly low that night. Having drenched in the rain for two days now, we all are shivering to no point. The drenched rugs were of no help. Even then we survived the night. The next morning the rains lashed out harder. Ramesh kept trying something with the rope. But in these currents it was futile to even think about it. We all drank rain water, never before the water tasted so good I thought. We are starved to the point of nothing. By afternoon Mallika was down with high fever and couldn't take it anymore. Suddenly in the heat of that moment she jumped into the water. Rakesh trying to pull her out too fell in to the water. The strong currents carried them away. I couldn't understand what was happening. I kept throwing the rope in to the water hoping that someone might catch it.
And there I was all of sudden, all alone with nothing left not even a man to talk to. I was the last man standing. It suddenly felt like a scene straight out of Cast Away, where Tom Hanks is the only man on a deserted island. I thought he at least had an island, and I have like two square inches and a tree. I checked the bag packs of Mallika and Rakesh, but other than camera I found nothing that is of use to me. I went through the camera footage. There were many videos in it. It was nice to see Mallika and Rakesh together again in that form. They seemed happy in those videos and shot breathtaking visuals. I smiled at how the tables have changed in a matter of couple of days. Of all the videos the last one caught my attention. It was shot the first night we are stuck here. Rakesh shot this one while I and Mallika are far asleep. The video had footage of river current taking away all the lives of people at the other end. All of them were in deep slumber when this happened. I couldn't help but laugh at the transient human nature, yet I assumed how we take ourselves for granted. Rakesh's words rang in my ears loudly, "Life is a joke, just laugh through itŁ." The starvation reached such a level that I started eating leaves out of that tree. I made a strong pact with myself that I would not commit a coward act of suicide. The next morning, the water level rose even further reaching my knees in a sleeping position on that slope. I started tying myself to the tree with a rope, so that I won't slide over the slope in to the river while was sleeping. All the bag packs went missing by the morning. I assumed they might have slid through the slope. I was laughing at my condition. My wound started to become green in color. The rains never stopped in these four days. For the next two days it was the same. I started to think of Gautam and how lucky he was for not making this trip because of the illness. I remembered the elderly couple's decision of not making this trek which proved dreadful. For the next two days, I drank rain water ate leaves and sat meditating for the most part. My body could no longer stand and hardly move by the seventh day. I whispered to the tree "so this is how it ends." A rescue team spotted me in almost a dead state on the eighth day through a helicopter. The rest as I say is History!!!
PREVIOUS STORY NEXT STORY SHARE YOUR STORY
Please consider
making a donation
to
Sunny Skyz
and help our mission to make the world a better place.
Click Here For The Most Popular On Sunny Skyz
LIKE US ON FACEBOOK!