Mid-Mid-Life Crisis
By Jodi-Ann E. M. Morgan • December 5, 2014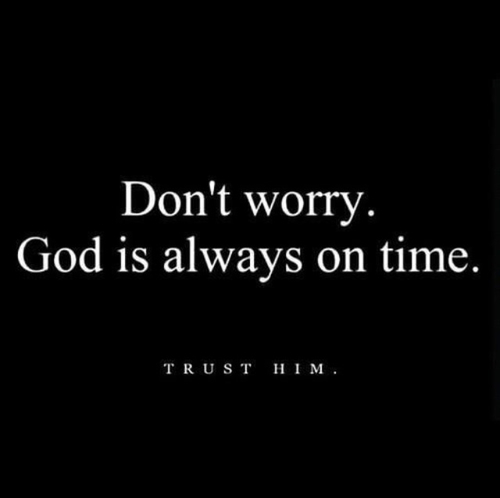 Did you ever wish you could hear God's voice, like Samuel did when he was under the tutelage of Eli? I sure have; I have so many questions about life. What is my purpose here? Who am I to become? Am I on the right path to happiness? Recently, I have also been questioning where I am in my life right now. Being a prisoner of my thoughts I often find myself locked up behind bars of emotional turmoil and disappointment. I just thought I would have accomplished a lot more at this age.
One day, in my mind I solemnly said, "God… what… am I supposed to be worried?" Simultaneously, I opened my Instagram app to see a picture with these words, "Don't worry. God is always on time. TRUST HIM." Talk about perfect timing! I honestly felt like God was answering my question. I may not have heard His voice but I figured this is the closest I'll ever get to such a thing. It reminded me not to worry. Worrying was not going to add anything to my life, if anything, it would make it worse. It also reminded me that I need to trust in His timing even if it is not in tune with mine. I just have to exercise patience.
So, at any stage in your life when you feel like you are in a crisis, do not become a jailbird to anxiety. Instead, make the decision to take flight and break free. Use contentment as the key to unlock the cell. Then, continue to work assiduously at achieving your goals, all the while trusting God to make things fall into place at the time it is meant to happen.
PREVIOUS STORY NEXT STORY SHARE YOUR STORY
Please consider
making a donation
to
Sunny Skyz
and help our mission to make the world a better place.
Click Here For The Most Popular On Sunny Skyz
LIKE US ON FACEBOOK!