Someone Wrote The Most Epic Response To Discredit This Motivational Poster
May 5, 2015
Everyone loves a good, motivational poster... except for the person who wrote this response to the one below.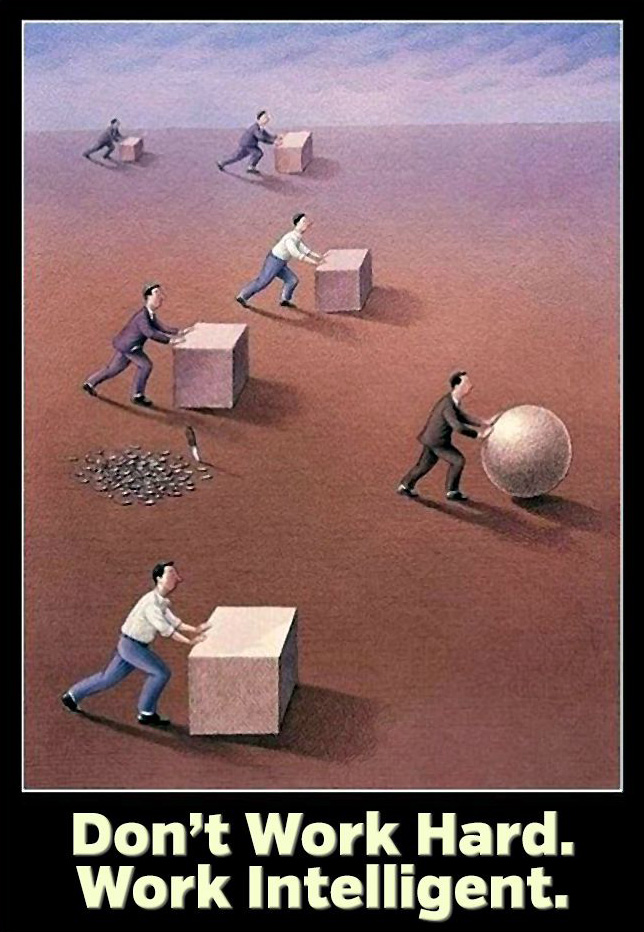 "Don't Work Hard. Work Intelligent."
Wait a second. What exactly is the message being conveyed here? Feel free to sabotage the product for the sake of making your own job easier?
This worker just removed 47.64% of the material from the object he was assigned to transport! If one of his co-workers removed 47.64% of his cube to simply make a smaller cube, he'd move faster too. And probably get fired for it.
If the worker is going to carve up his cube, why not carve a cylinder? It's be just as mobile as a sphere, but he'd only have to remove 21.46% of the material. And it would require less work to carve.
While we're on the subject, though, how quickly does this worker carve a sphere out of a cube? Evidently he didn't lose much headway. And he did it with that little pen knife? Seriously? Do you know how difficult it is to carve a perfect sphere from a cube?
If the ultimate goal was to deliver a whole cube, then the worker has already failed. If the goal was to deliver as much of the material as quickly as possible, then he should have cut 4 edges off the cube (removing only 17.16%). An octagonal prism rolls just fine, with less material and time wasted.
But, for all we know, when the workers arrive at their destination, they may be required to stack the objects. In this case, our so called intelligent worker has delivered an object that won't stack. Bravo, intelligent worker! Bravo!
Oh, and it should read: "Work Intelligently."
Credit: dehydrationstation.
Please consider
making a donation
to
Sunny Skyz
and help our mission to make the world a better place.
Click Here For The Most Popular On Sunny Skyz
LIKE US ON FACEBOOK!