This Dad Experienced What No Parent Should Ever Experience. What He Wrote About It Is Beautiful
March 16, 2015
Andy lost his 14 year-old son to Leukemia. What he wrote about him and what he's learned in the past three years is truly beautiful. Hug your children and loved ones a little closer today.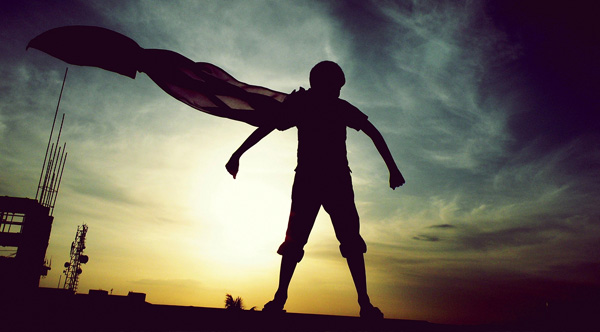 My 14 year-old son died from complications of Leukemia. This is my eulogy:
My first year of working in the fire department, I was on a paramedic unit and was on location on the back side of an apartment building fire. A firefighter asked me and my partner to help him put a ladder up to a third floor balcony, and a family of three came down the ladder. All three of us were given an award for this, and at the ceremony a reporter asked me what it felt like to be a hero. I told him with no false modesty, that being at the right place at the right time and doing what you are supposed to, with little or no risk, does not make someone a hero, but it did start me thinking... What does make a hero? According to the late actor Christopher Reeve, "A hero is an ordinary individual who finds the strength to persevere and endure in spite of overwhelming obstacles." Actress Debi Mazar wrote, "A hero is somebody who is selfless, who is generous in spirit, who just tries to give back as much as possible and help people. A hero to me is someone who saves people and who really deeply cares."
In the last three and one half years I have finally found out what a hero is, and who my heros are.
The Pediatric Oncology Doctors, Physician Assistants, and Practitioners who work night and day struggling to find any and every way to save a cancer kid, getting to know and love these kids, knowing full well that so many children that they learn to love will not survive, these are my heros.
The Pediatric Oncology Nurses, who become family to both cancer patients and parents, and become more intimate with these patients and families than even most relatives do. Who celebrate the victories, and cry at the failures, but somehow love their work and show it every day, these are my heros.
Our friends, family and neighbors, who have given us unwavering support for three and a half years. Who have comforted us, watched our dog, cooked meals for us, cut our grass, cleaned our house, raised money to help us, and have helped us in so many immeasurable ways, these are my heros.
My daughter, who at the age of 14 was so excited that she could be the bone marrow donor for Joshua, and did not hesitate to have her pelvic bone impaled over 50 times with a needle to give up her bone marrow. My daughter who has been forced to grow so fast and so independently and has been the light of my life for these difficult years, she is my hero.
My wife, who has been the rock and the glue holding the family together while giving everything and more to Joshua for his whole life, and who worked day and night for the last three and a half years to let him feel that he was safe, loved and never alone. My wife who very quickly became an oncology specialist, a pharmacist, a medical technician, a physical therapist, a psychologist and patient advocate, and somehow made extra time to be a wonderful mother to Sarah and wife to me, she is my hero.
And of course Joshua. My Boo Boo. What can I say about my Boo Boo? Never have I seen anyone go through so much adversity, sickness and pain with the loving and caring and compassion that he showed. Did he ever complain? Every chance he got! But he did everything... everything... EVERYTHING we asked of him. He would hide his fears and sometimes his pain from me knowing how upset I could become over his illness. In between his most severe illness periods, he would regain his famous sense of humor and would exude the love, compassion and thoughtfulness that attracted everyone to him. He showed courage and wisdom that I could not even conceive of. When we told him he would need a second transplant, which we dreaded telling him, without hesitating, he said, "If that's what the doctors think, then we should do it." Even when seriously ill, his sharp wit would show through. When doctors would ask what was bothering him he would usually say, "Right now, YOU ARE!" When he was able to, he would always think of others. When he would have to throw up, he always apologized to me because he knew how upset it made me to see him so sick. He bounced back, and bounced back, and bounced back, physically and mentally. He really was the boomerang kid.
I will miss every part of his personality, humor, insight and compassion. I will miss him watching his ridiculously obnoxious internet videos and laughing non stop, I will miss his singing in the shower... He never believed us when we told him he really had a beautiful singing voice. I will miss his snuggling and his back scratches when he sensed I was anxious. I will miss that even though he was 14 he still made whooshing noises when he played with his Lego spaceships. And I will miss that he would say "I love you" and give me a hug just out of the blue.
I guess I could go on for another hour saying what I will miss about my Boo Boo, but what I have come to realize is that I have not only lost my snuggle bug, my friend, my companion, and my Boo Boo, but I have lost my biggest hero. I will never know anyone again, who is more deserving of that title.
Credit: andyblu.
Please consider
making a donation
to
Sunny Skyz
and help our mission to make the world a better place.
Click Here For The Most Popular On Sunny Skyz
LIKE US ON FACEBOOK!