A Concerned Mom Calls Out Department Stores For Their Girls' Clothing And Short Shorts
October 9, 2014
A concerned mom believes the shorts being sold to girls at Target are, well, too short. She wrote a blog post about it that has since received national attention, and even a response from Target. Naturally, there were mixed reviews from parents, so this is her latest post with plenty of pictures to document Target's current state of clothing in their children's and juniors' departments.
Via Stephanie Giese at Binkies & Briefcases.
I went back to Target today with my daughter and our teenage babysitter, Lindsay, after my discussion with them. I wanted to take pictures to document the current state of the clothes in their children's and juniors' departments so that I can look back in a few months and see how much of a difference our voices have made. Hopefully we will see a lot of change very soon. This is what I found today: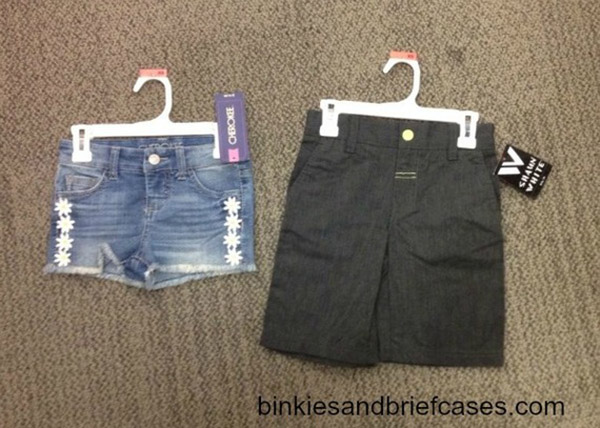 Binkies & Briefcases
Since I was told it would be better to compare children's sizes instead of toddlers, I focused on a size XS (4-5).
Do you see something wrong here? These are shorts for 4-year-olds.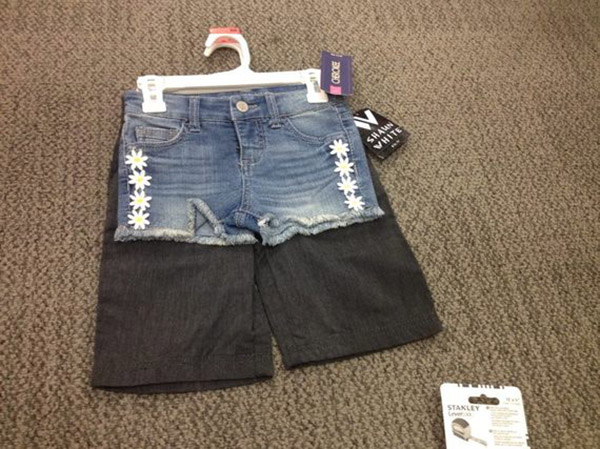 Binkies & Briefcases
This is a pair of girls' XS Cherokee jean shorts. I measured the inseam. It was 1 inch.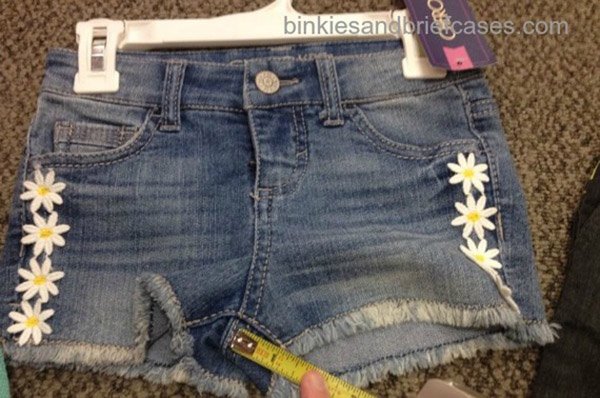 Binkies & Briefcases
This is a pair of Shaun White shorts for boys in the same size, XS. (I tried to find the same Cherokee brand for boys, but since it is October, pickings were slim in the shorts department.) The inseam on the same sized shorts in the boys' department was almost 7 times longer.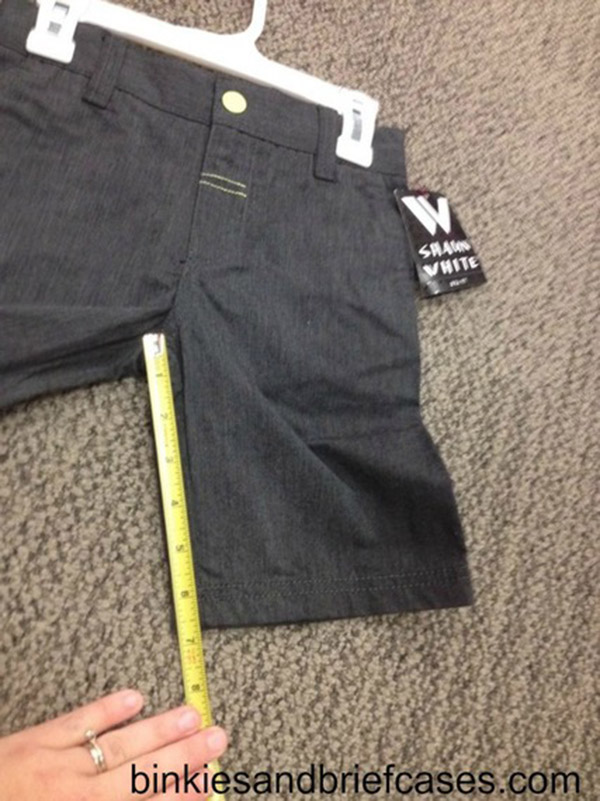 Binkies & Briefcases
A lot of commenters on my last post simply said, "Who cares, just buy a bigger size." I was curious how high I would need to go up in sizes in the girl's department until I found a pair of shorts that matched the length of the boys'.
You said jump (up in sizes), I said how high? Turns out, it's this high: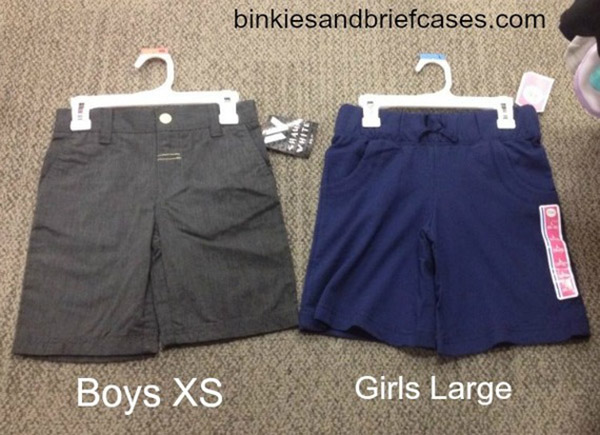 Binkies & Briefcases
Those are the same boys XS (4-5) Shaun White shorts on the left. The only shorts in the girls' department that matched them for length were a girls' size Large (10-12). I had to go for athletic shorts because they didn't make any denim shorts for girls with an inseam this long.
The problem, besides the fact that we are calling the same amount of fabric Large for girls and Extra Small for boys, is that those size Large shorts would never fit my 5-year-old daughter in the waist. So even if I tried to buy her a bigger size, they wouldn't fit.
Let's move on and compare some of the same brands, though. Please excuse my less than stellar phone pictures.
On the left, boys' size 5 boot cut Cherokee jeans. On the right, the boot cut for girls in the same size.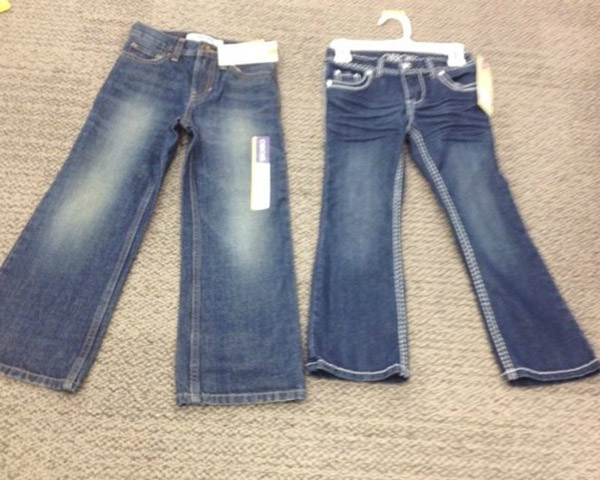 Binkies & Briefcases

Binkies & Briefcases
Yes, the girls' jeans in the same size, in the same brand, are tighter and shorter.
The same thing happens with shirts. Girls' on the left, boys' on the right.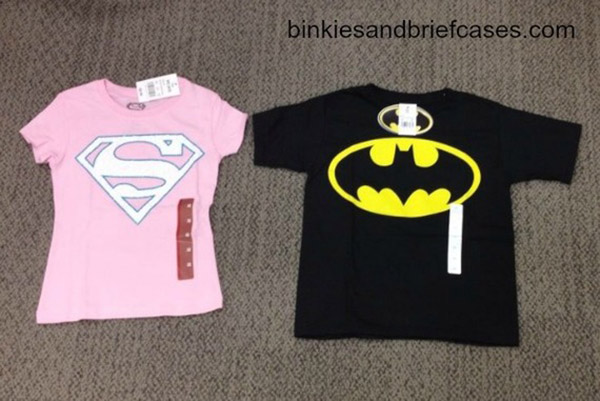 Binkies & Briefcases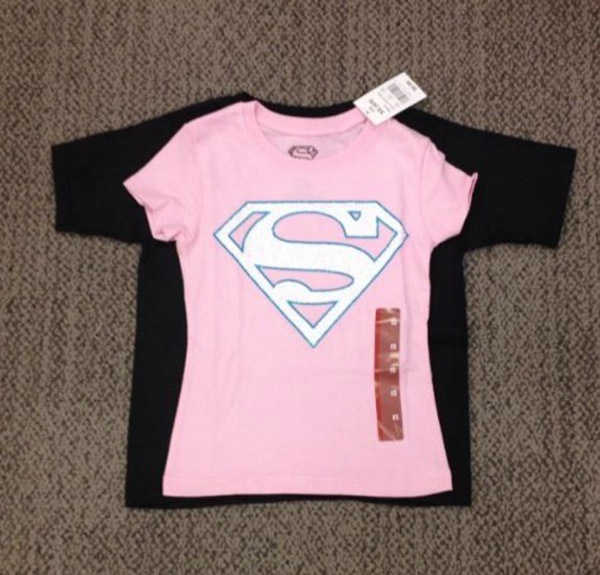 Binkies & Briefcases
These shirts are labeled the same size. I have no idea why an XS shirt (size 4-5) needs to curve like that to show the shape of a young girl's body, a body that hasn't even developed the curves that a woman's shirt in that same cut would be trying to feature.
However, I did see some things in Target today that made me smile.
First of all, they had super heroes and Ninja Turtles in the girls' and juniors' sections. And a lot of the shirts weren't even pink.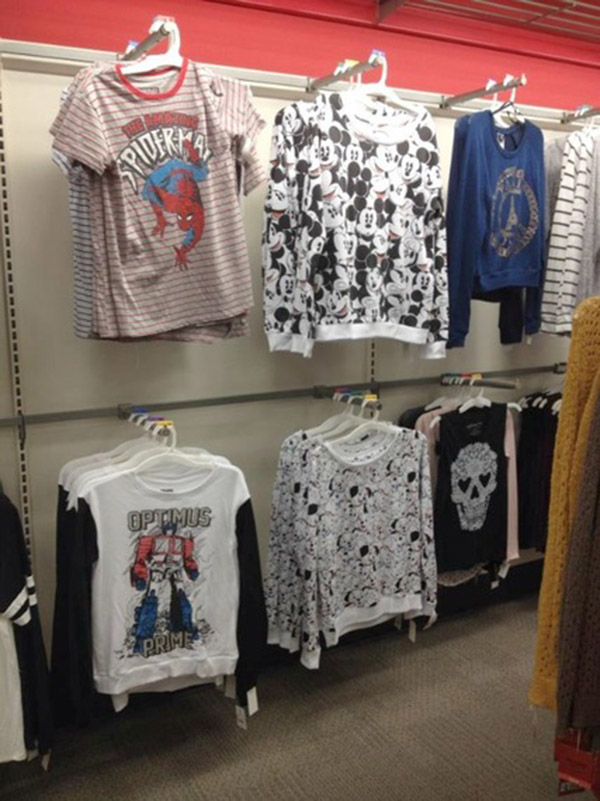 Binkies & Briefcases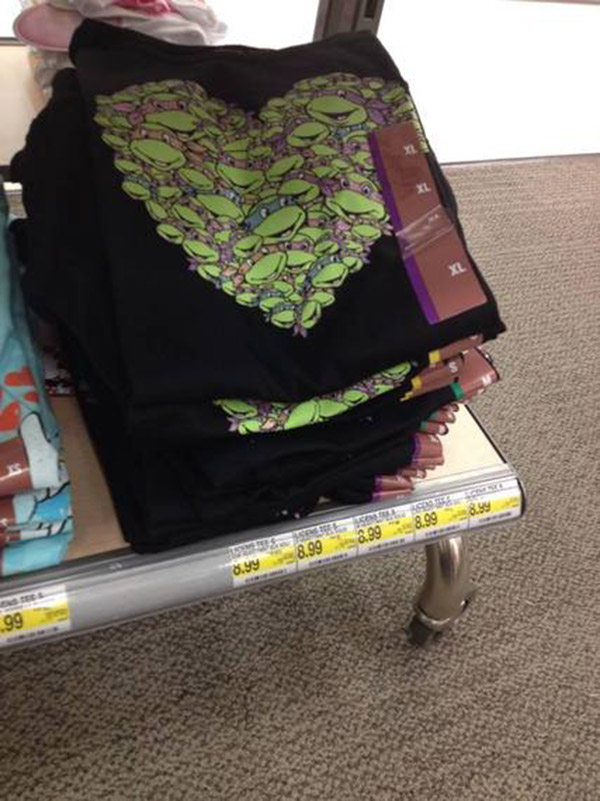 Binkies & Briefcases
They also had a lot of Frozen character items that were not entirely pink or purple or glittery (although there was a lot of that too). The "princess culture" stuff doesn't bother me. As a matter of fact, I just made my daughter an Elsa dress that will be her Halloween costume. My girls are obsessed with Frozen just as much as any others. I also saw some pink in the boys' and men's sections. FYI- Target also had Frozen shirts for boys.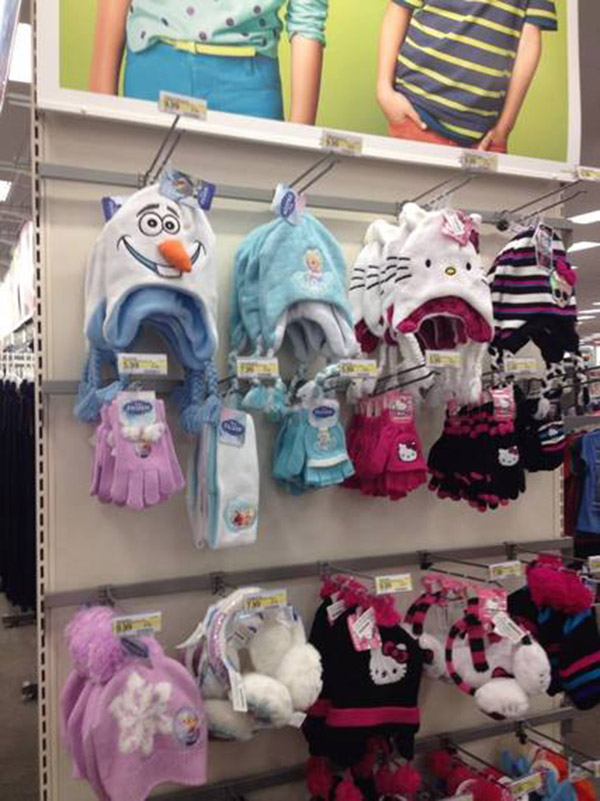 Binkies & Briefcases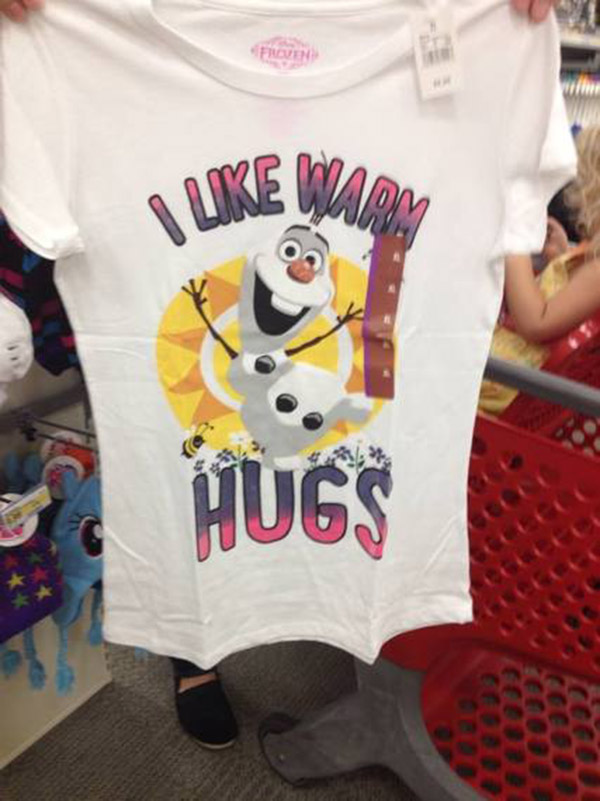 Binkies & Briefcases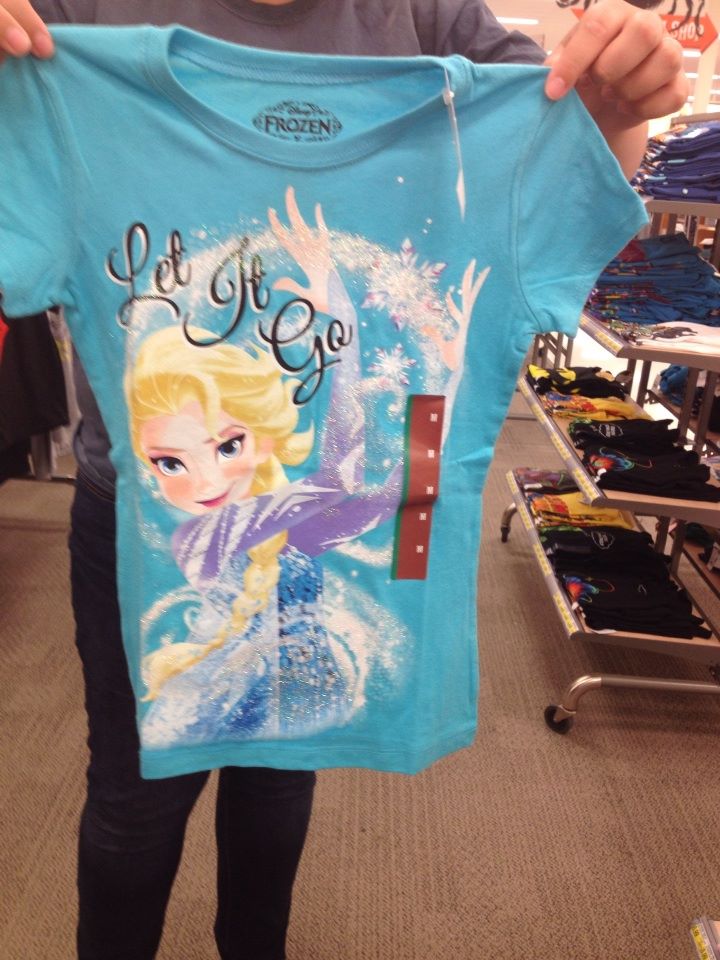 Binkies & Briefcases
While we were at Target we also stopped by the women's and junior's department to measure the inseam on the shorts over there.
Um…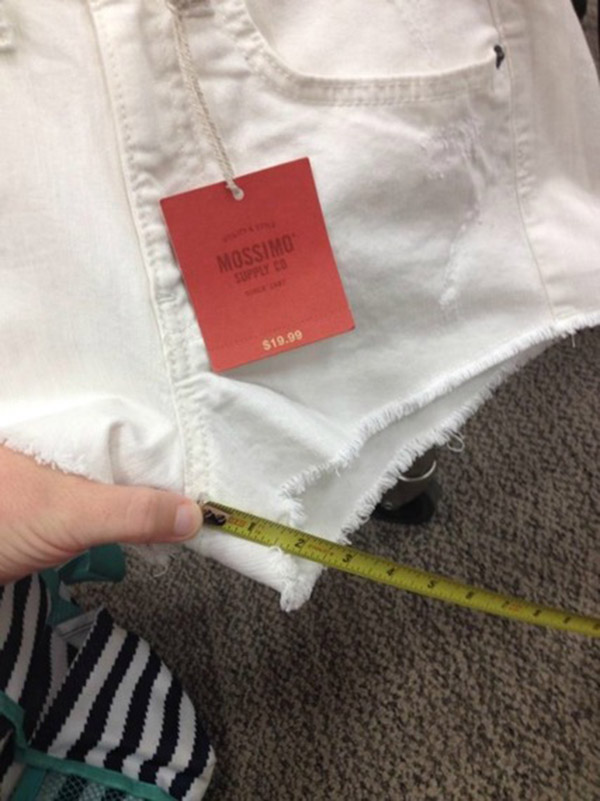 Binkies & Briefcases
Not quite 2 inches on a women's size 7. Let me remind you that this is less than one inch longer than the shorts intended for toddlers.
Ouch.
Moving on...
Lest anyone think I am specifically picking on Target (which I am, because they are and always will be my favorite and I hold them to high standards), we also went toKohl's.
And this is the part where I feel the need to formally apologize to Target, because in my experience today Kohl's was worse.
If we want to crown a winner of gender stereotyping the clothes in the children's department, Kohl's won by a landslide. It was pretty bad.
Guess how many super hero or comic book character shirts I found in the girls' department there? Zero. The boy's department was full of them, though.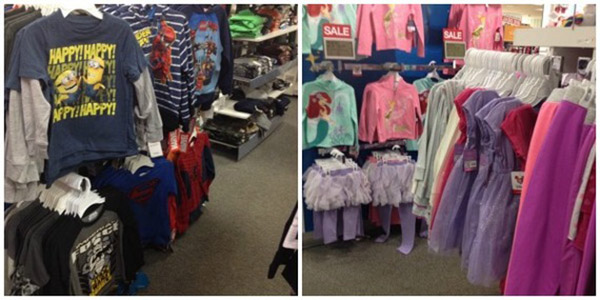 Binkies & Briefcases
While we were at Kohl's, I did get the opportunity to compare several name brands of shorts.
Remember how there was some debate about how it isn't fair to compare different brands because they all cut their clothes differently?
Well, it turns out that Oshkosh and Lee have the same idea of what a size 4 should look like for a boy.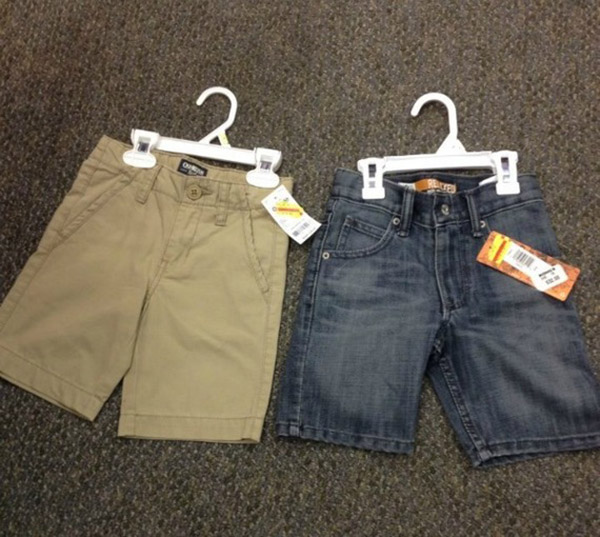 Binkies & Briefcases
But Mudd is a little confused about how much fabric is necessary to make that same size for a girl.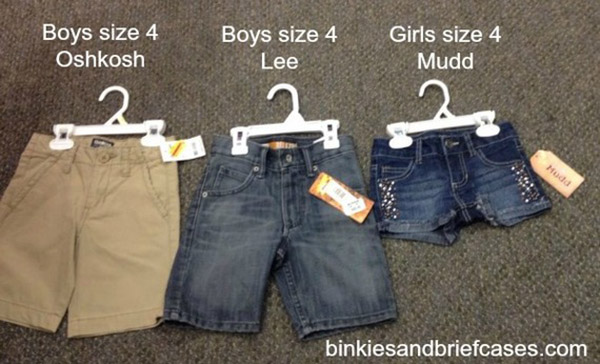 Binkies & Briefcases
Once again, I'd like to remind everyone that these are clothes for preschoolers.
Girls' vs. Boys'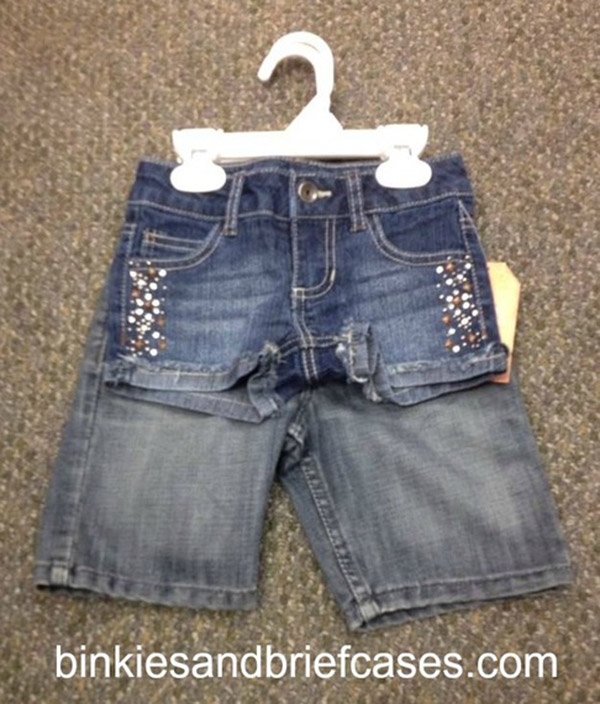 Binkies & Briefcases
It's a scary world out there, trying to shop for our daughters.
Yes, I suppose I could start buying clothes from the boys' section, but why should I have to? I happen to have girls who actually like pink and purple and sparkles. They deserve better than what we are giving them.
And no, it is not about shorter clothes costing less money to manufacture. The clothes in the boys' section don't cost twice as much, although they have more fabric.
And no, it is not about me "slut shaming" young girls as a writer, because a) gross and b) there is no such thing as a 4-year-old slut and c) little girls just want to be able to play comfortably in their clothes. I've heard from a lot of people this week. Not one of them was a preschooler who felt "slut shamed" by my last post.
And no, it is not a quality control issue or because the clothes are designed to fit smaller Asian children (which is an actual response I got this week from a commenter). I spoke to Target's Public Relation's team. I heard straight from the source that their clothes, while perhaps manufactured elsewhere (I didn't ask), are designed right here in the U.S. by not one, but two teams of designers. One team focuses on the look of the clothes, while the other focuses on fit. They use statistical data from kids right here and try to fit their clothes to the 50th percentile, doing the best they can to meet in the middle and fit as many kids as they can.
No matter what, there is no excuse for trying to sell me a one inch inseam. Ever. They literally make underwear with longer inseams than that.
This article was written by Stephanie Giese for the blog Binkies and Briefcases. Check out her amazing blog about trying to find a balance between life and motherhood. And be sure to like her on Facebook!
Please consider
making a donation
to
Sunny Skyz
and help our mission to make the world a better place.
Click Here For The Most Popular On Sunny Skyz
LIKE US ON FACEBOOK!