6 Things Tim Tebow will teach you about Life
June 25, 2012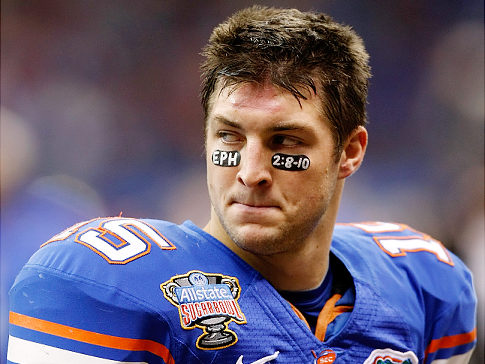 When it comes to Tim Tebow, people either love him or hate him. I have yet to understand how any one can dislike a man with such honor and integrity, but that is not my decision to make. Either way, everyone can admit that he spreads a lot of positive messages, especially to children. I personally think it's the adults who need it the most.
Since becoming a fan of him as an individual and not just a professional football player, I've learned a lot about life.
1. No matter what, give 110%.
Be passionate about everything you do. Always give your best and never give up. In life, you have to seize the moment, because you never know when that will be the moment that changes your life forever. Steve Jobs said it all the time. Love what you do and do what you love. Tim Tebow loves playing football, and his teammates will tell you he works harder than anyone else on that practice field. He is the first one to arrive and the last one to leave. Although football analysts and the media consistently try and remind him that he is NOT an NFL quarterback, his mind has not changed. His passion is playing quarterback and these constant reminders only encourage him to try harder, which leads me to my next point.
2. No matter how good you do, you will still have doubters.
Tim Tebow might be the most criticized football player to ever play the game. Analysts, TV personalities and many current players will tell you he is not a good quarterback -- he can not throw the ball -- he needs to play a different position...and the list goes on. But has any other quarterback in the NFL achieved what Tebow has at his age? He won not 1, but 2 National Championships in college for the University of Florida. He won the Heisman Trophy, the most prestigious award a college athlete can achieve. During his first season as a starting quarterback in the NFL, he took a losing NFL team(1-4 record) to the playoffs and won the first playoff game beating the Pittsbugh Steelers. Sports Illustrated went on and named him the most over rated player in the NFL. If Tim Tebow wins the Superbowl as a starting quarterback, I guarantee the media will give credit to someone else. Tebow doesn't care what they say. You have to admire that.
3.It's not about WHAT you do. It's WHY you do it.
Tim Tebow has always been about this principle. Whether he wins or loses a football game, he says the same thing in all of his post game interviews. "I am just happy to make a kids day." If you do not know this about Tebow, he flies a terminally ill child to every single football game, home or away, and provides the family with a hotel room. Tebow hangs out with the child before AND after the game. So do not just do something because you have to. Do it because you want to. Do it for the right reasons. Deep down inside, you know what is right and you always will. Follow your heart.
4. Always do the best with the platform you are given.
Not everyone is given the same platform in life. Celebrities, musicians, and athletes are given a much larger stage than the average Joe could ever imagine. They have the ability to influence thousands, if not millions of people with their actions and words. Some do an amazing job, while many fail. My point is, we might not have a huge platform, but we should try and make the most out of what we do have. Inspire others. Encourage your peers. Set a good example and make good impressions on everyone you come across. It's the things you do behind closed doors, when no one else is watching that matter the most.
5. Never talk bad about anyone, even if they talk bad about you.
This one might be the hardest to learn, but it sure is important. As I said earlier, people are always going to criticize you and talk about you in ways you will not appreciate. People like this want you to crack because they are jealous or miserable with their own lives. They are going to say you can't do something because they can't do it themselves. Tebow has been called everything imaginable. Whether its on Twitter or ESPN, Tebow always has the best response. He kills them with kindness. He might say something positive about the person, even if they hurt his feelings. Think about who wins. That person is going to re-evaluate their life. Always be kind, and if you absolutely can't, just say nothing at all.
6. Stop worrying about the things you can not change.
You can only change and make an impact in so many situations of your life. You can not worry about the things that you can not change. According to his autobiography, Tim Tebow believes very strongly in this concept. It helps him get through life's negative experiences. When people are talking about him with negative connotations, he reminds himself that he can't change that. If we do not realize this, we will worry and stress ourselves out. That is not what life is about. Let the things outside of your control go, and worry about what you can do.
If you haven't already, I suggest you read Tim's autobiography, "Through My Eyes". You will not regret it.
Please consider
making a donation
to
Sunny Skyz
and help our mission to make the world a better place.
Click Here For The Most Popular On Sunny Skyz
LIKE US ON FACEBOOK!