Herd Of Cows Help Save A Stranded Baby Seal
September 28, 2023
An unusual and heartwarming incident unfolded at Frampton Marsh Nature Reserve in Lincolnshire, U.K., where an avid birdwatcher stumbled upon an unconventional sight.
Instead of feathered friends through his telescope, Ian Ellis, 67, found himself witnessing a heartening scene: approximately thirty inquisitive cows encircling a stranded seal pup mired in mud.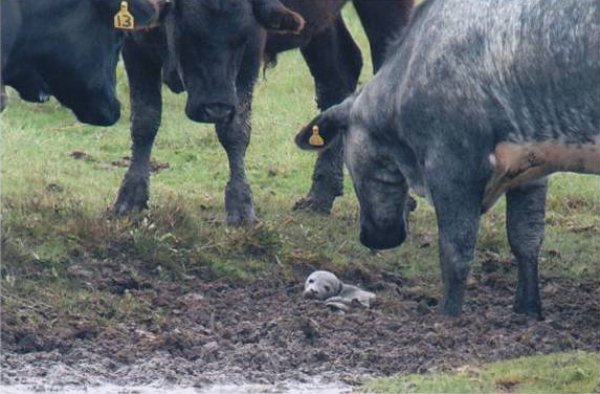 Credit: Skegness Natureland Seal Sanctuary / Facebook
Ellis recounted that he had been immersed in birdwatching activities about three weeks ago when his attention shifted to the plight of the seal. The seal was believed to have been swept ashore by a tidal current.
The unexpected alliance between cows and a stranded seal quickly garnered attention as it unfolded against the backdrop of the serene Frampton Marsh Nature Reserve. Ian Ellis's timely intervention in calling for help marked the beginning of a unique and heartwarming rescue effort.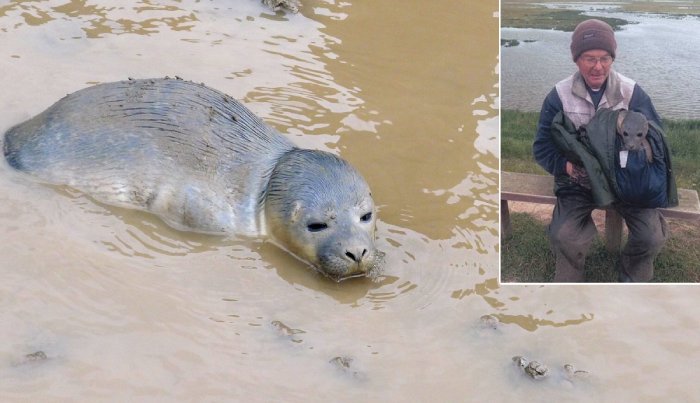 Mr. Ellis / Credit: Skegness Natureland Seal Sanctuary / Facebook
Local authorities and wildlife rescue teams swiftly responded to the call and transported the seal to safety at Skegness Natureland Seal Sanctuary.
"Once we got the pup back to Natureland, she went straight into the Seal Hospital to begin treatment. Her main problem is that at only 5 days old, she was orphaned and therefore had not fed for a while, she had lost quite a lot of weight and was dehydrated," said Richard Yeadon, one of Natureland's directors.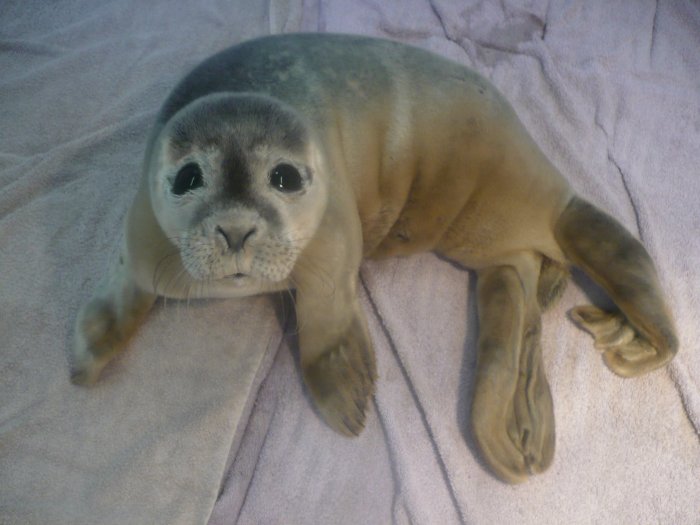 In her pen at Skegness Natureland seal hospital / Credit: Skegness Natureland Seal Sanctuary
He continued: "We gave her rehydration fluid through a stomach tube and are now giving her high fat herrings which will help her gain back the weight. She is also on a course of antibiotics to combat a breathing problem. Once she is stronger, she will continue through the rehabilitation process until she is 60-70lb and is able to feed in the water by herself. We will then release her back to the wild."
Thanks to Mr. Ellis and a curious herd of cows, this baby seal now anticipates a second lease on life in its natural habitat.
Please consider
making a donation
to
Sunny Skyz
and help our mission to make the world a better place.