This Fat, Sassy Cat Named Bruno Is Looking For A Home
August 17, 2018
This little dude's name is Bruno and he's currently on a diet.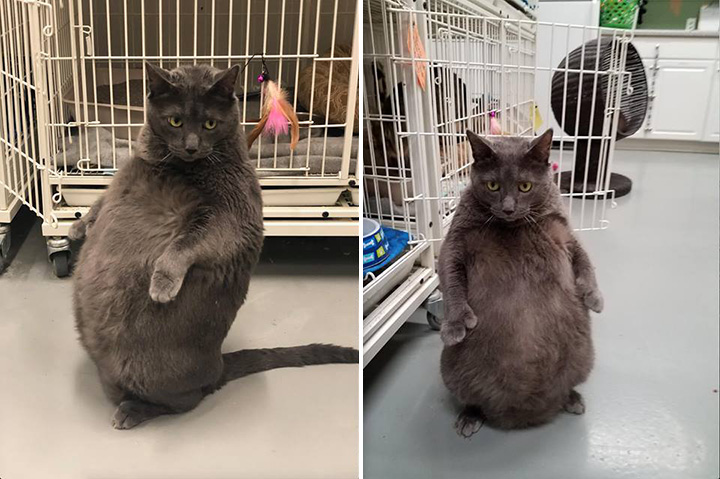 The Wright Way Rescue in Grove, Illinois is hoping to find a home for the cool, chubby cat.
Here's what they wrote about him on their Facebook page:
"TOO COOL TO BE HOMELESS!
We're not sure how Bruno hasn't found his forever home yet! He's the COOLEST cat!
Hi, my name is Bruno! I am a 7 year-old polydactyl cat who is 25 pounds.
There's a lot of me to love! I am perfectly healthy other than being overweight. I am on a diet, though. I am walking, playing, and doing tricks like this to lose some weight.
When I am in a normal home, most of my day is spent laying around, but never far from my family. I usually prefer to lay on the floor or right next to you, but occasionally I like to be a lap-cat. I also really like playing with my feather wand toy. Not so much my other toys or scratchers, though. I do like to sleep with my foster parents, but at the end of the bed so you still have room.
I like when you scratch the sides of my face and neck. I like to be pet on the top of my head and spine only. I know my tummy is so tempting to touch, but I would prefer if you didn't. I may swat my hand and pretend to bite if you do.
I like to talk to you....a LOT. Be prepared for a chatty kitty! I have a couple quirky traits too....For one, I like to stand on my hind legs! This usually happens when I want food. No, my foster parents did not teach me this. They are not sure how I learned.
Second, I love to be pet while I eat. It took my foster mom a little time to realize what I was meowing about, since she had just put food in my bowl. Soon she found out it's because I want pets while I eats! I will still eat if you don't pet me, but I will meow more and stare at you for a while...I also drink a lot of water. I never drink the water in the kitchen where my food is. I only drink the water that was put in a completely different room. If you have a larger house, perhaps put multiple bowls of water around for me and be sure to give me fresh water at least once day? Yes, I know I am EXTRA.
Overall, I am a pretty laid back, lazy cat who just wants to be in the presence of my owners. I hear I make them laugh and smile every single day, so I hope I can do the same for you!"
For more information on Bruno, contact Wright Way Rescue on Facebook.
Please consider
making a donation
to
Sunny Skyz
and help our mission to make the world a better place.
Click Here For The Most Popular On Sunny Skyz
LIKE US ON FACEBOOK!