Photo Tiles From Wallpics - Choose the Perfect Piece of Art for Your Living Room
July 25, 2018
The living room is a place which needs to be given a brighter look. It is the first place your visitors would be looking at as they enter your house. Hence, giving it a live look is more essential. Priory, wall paints, wallpapers, etc. were considered to be the best option for decorating the rooms.
However, these days, the art pieces are given more importance in selection. Art pieces here mean the wall pictures that add some extra personality to the rooms combining both traditional and modern look. Also known as wallpics, they are available in a number of themes and varieties to select from which might confuse you at the time of selection.
Here are some quick ways that would inspire you to get the best piece of art for your living room walls.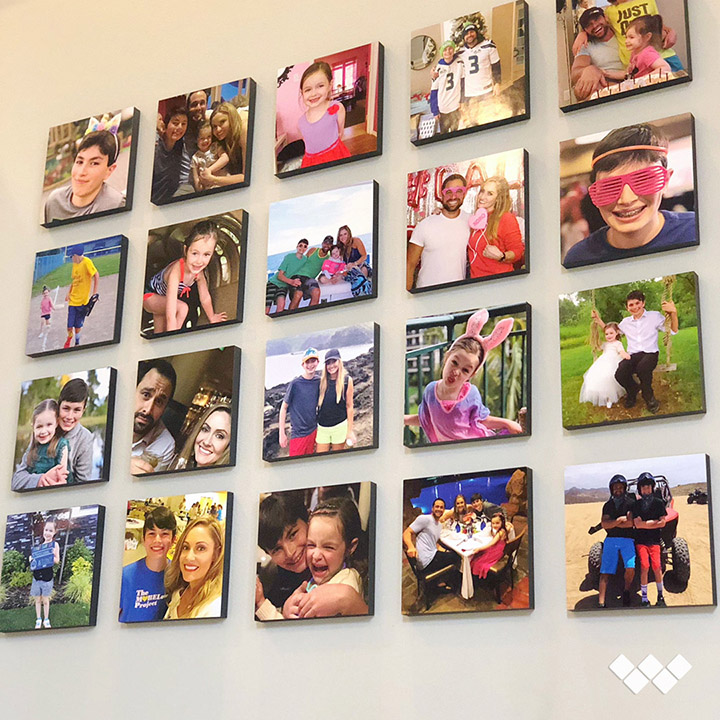 Wallpics.com
Look at the color of the walls
The prime step towards selecting the best wallpic is knowing the color scheme of your walls. A general mistake committed by the people is that they go with an art piece that matches the room without giving due importance to the color of the walls, design elements, etc. For walls with sleek lines, neutral colors, etc. the canvas wall pieces add a different charm to the look of your living rooms. For the rooms that are colored with the Middle Eastern styles, the minimal color wall pictures are an ideal choice to go with. Look for frames and art pieces that don't clash with your wall colors but have a contrast look.
Find a particular frame you want to have
The wall pictures are available in three different frames like print, photograph, and paintings. Hence, it is important to decide first what would you like to have in the living room. Make a point not to combine any of them in a single wall. If looking for a family wall, gather memorable photographs and fill your wall with family frames, leaving the rest walls plain. You can also give each wall a unique masterpiece painting, leaving the main wall free for a television or a big single-family photograph frame for an enhanced look for the living. However, there are families that keep the walls decorated with art paintings and leave the family pics on the drawers in the living.
Match the artwork you are selecting
If you think going with the paintings as wall pictures would be easy, let us tell you, the paintings come with a number of varieties to select from. There are floral paintings, landscapes, canvas works, and much more that would give your living the desired look. Make sure the theme of your room doesn't clash with the picture you are selecting. Decorating your Asian look room with lighthouse landscape is definitely a wrong choice. Similarly, if your room comes with a nautical theme, floral paintings would give it a messy look.
Go for a single frame
Yes, if you want to give the living room a simple yet appealing appearance, you can go with the single frame concept. This also gives a great impact on the outlook of the living. For this, select one proper place, area, or wall for designing it with the masterpiece. The place can either be behind the sofa sets, on the television, etc. You can select either wall sculpture, photograph, or painting for it, which is given equivalent size that can reflect your priorities in life, style, presentation, etc. Keeping the other walls plain or bare would add to the decorative texture of the room.
Give the wall picture a proper balance
Yes, every picture comes with its own importance and designing style. Getting any of the pictures and hanging it on the wall may give your living a dull look. Sometimes, the best living room designs are obtained with simple yet classic wall pictures, while some of the livings are given stylish look with heavy looking frames. So, give your wall picture a perfect balance by knowing the theme and the color of your living.
Make your own piece of art
Do you want to be an artist for decorating your own living in your own way? Make your piece of art by selecting a proper canvas for your wall. You can also make a collage of your favorite family pictures on a single canvas to give it a memorable look. For giving your wall an abstract artistic look, create some interesting art pieces using paints on the canvas. Make sure the canvas is a reflection of your character, design, thoughts, etc. that would give the wall a perfect norm. Don't hesitate to explore your thoughts on the canvas for getting that perfect looking wall picture.
You can also use the Wallpics app and print your favorite photos from your smartphone. You should place the order, and within 6 days you will receive your Wallpics. All you need to do is to choose your lucky wall and stick these photo boards on it.
So, are you ready to create the perfect living room? Select the best wall picture and make it look more tempting.
Please consider
making a donation
to
Sunny Skyz
and help our mission to make the world a better place.
Click Here For The Most Popular On Sunny Skyz
LIKE US ON FACEBOOK!