Twins Separated At Birth Find Out They've Lived A Freakishly Similar Life
March 26, 2018
While every human on this planet is unique, twins are fascinating because they challenge that truth.
The Jim twins will make you question everything about life.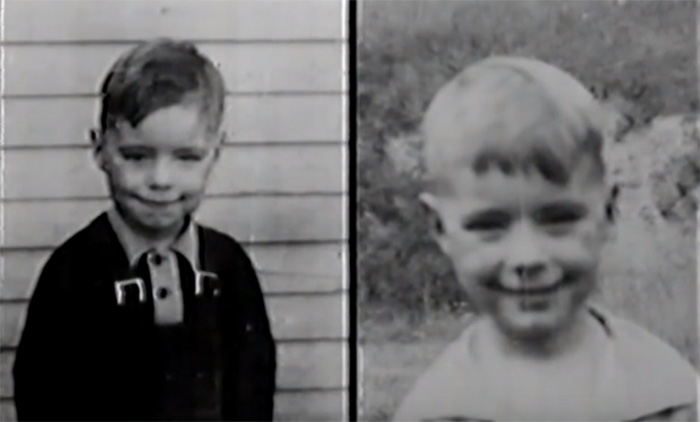 Credit: Secret Life of Twins, BBC 1999
Identical twins Jim Lewis and Jim Springer were separated when they were just four weeks old by two different adoptive families. When they reunited at the age of 39 in 1979, they discovered they both had lived almost identical lives.
"If someone had come to me with results like (these astoundingly similar traits of twins) I wouldn't have believed them," said scientist Thomas Bouchard, who conducted the case study.
Similarities
• Both had been adopted by separate families in Ohio, and had grown up within 45 miles of each other.
• Both had been named James by their adoptive parents.
• Both had married twice; first to women named "Linda" and second to women named "Betty".
• Both had children, including sons named "James Allan" (Except one spelled it "Alan").
• Both had at one time owned dogs named "Toy".
• Both had driven a light-blue Chevrolet to Pas Grille beach in Florida for family vacations.
• Both chain-smoked Salem cigarettes and drank Miller Lite beer.
• Both had at one time held part-time posts as sheriffs.
• Both lived in the only house on their block.
• Both were fingernail biters.
• Both suffered from migraine headaches (They even used the same words to describe these headaches).
• Both had undergone vasectomies.
• Both enjoyed leaving love notes to their wife throughout the house.
• Both had woodworking workshops in their garages.
Differences
• Each styled his hair differently; one Jim wore it combed straight, hanging down over his forehead and the other Jim wore it combed back and sported sideburns.

Credit: Secret Life of Twins, BBC 1999
According to the case study, Jim Lewis was responsible for their reunion. Both of the twins had been told as kids that they had a twin brother, but Springer's mother told him his twin had died. And Lewis wasn't interested in finding his brother until later in his life.
Previous studies have indicated that twins raised apart are actually more similar in personality than twins raised together, because twins raised together have more of an incentive to distinguish themselves from each other as individuals, and twins raised apart can just follow their natural inclinations.
Watch the video on the Jim Twins below.
Please consider
making a donation
to
Sunny Skyz
and help our mission to make the world a better place.
Click Here For The Most Popular On Sunny Skyz
LIKE US ON FACEBOOK!