They Couldn't Figure Out Why Their Baby Was Screaming, Then They Took Off Her Socks
February 4, 2016
Scott and Jessica Walker's 19-week-old daughter Molly started screaming one afternoon, and despite doing everything they could to comfort her, they could not figure out what was wrong.
As the baby started to get more upset, she began to overheat. This prompted Jessica to remove Molly's socks to cool her down. That's where they found the source of the screaming: a hair tourniquet around her toe.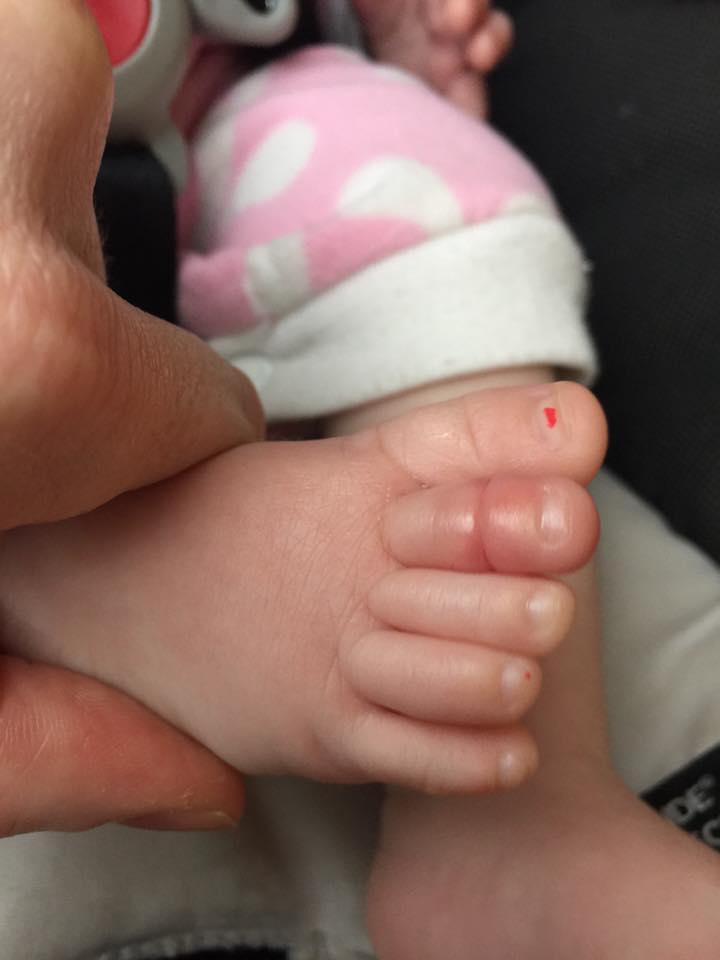 Scott Walker / Facebook
A hair tourniquet is a strand of hair that inexplicably wraps around a toe so tight that it can cut through the skin and potentially cut off blood circulation.
After the ordeal, Scott decided to share the story on Facebook in hopes of enlightening friends and family who were also new parents. He wrote:
"Had a small scare this afternoon with Ms. Molly. What happened was new to me, but apparently not totally uncommon, so I figured I'd share with my fellow parents out there.
I was with the family over lunch and Molly was cranky and screaming -- nothing out of the ordinary. As worked up as she was getting, she started to overheat, which prompted Jess to remove her socks and cool her down. That's when we saw her toe. This is called a hair tourniquet, which is literally a strand of hair that, while inside a sock, unexplainably wraps around a toe so tight that it can cut through the skin and potentially cut off blood circulation.
Luckily for Molly, she has a mother with medical emergency superpowers who was able to remove the hair with tweezers and a magnifying glass within a few minutes. This picture was taken about 45 minutes after the hair was removed. Unfortunately, the hair managed to cut all the way through Molly's skin, completely around her toe, but it could have been worse had it gone much longer untreated, or if the hair wasn't accessible.
The doctor told me, for future reference, to always check the toes if the baby is inconsolable. Just an FYI to any parents or care takers out there."
The post has 34,000 likes and more than 23,000 shares on Facebook.
Scott told TODAY:
"There's a lot of people who haven't heard about it and we've had a couple of messages of people who saw the post and it happened to them since then and took action to help their kid out before it got worse. How much more rewarding does it get?"
Please consider
making a donation
to
Sunny Skyz
and help our mission to make the world a better place.
Click Here For The Most Popular On Sunny Skyz
LIKE US ON FACEBOOK!